Nokia Lumia 2520 review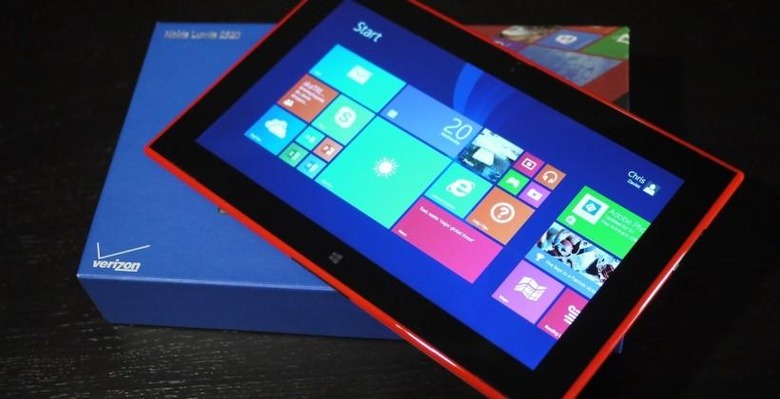 The Nokia Lumia 2520 has been some time coming. The glaring absence of a tablet in the company's range, and its refusal to discuss it until it could figure out a suitably "Nokia spin" on the segment, left us with big expectations. Turns out, the Nokia magic is making LTE standard-fit and borrowing the Lumia phone style for a Windows RT slate, but is that enough to differentiate the Lumia 2520 from the iPad and Microsoft's Surface 2? Read on for the SlashGear review.
Hardware and Design
Shorter and narrower than the Surface 2, at 267 x 168 x 8.9 mm, the Lumia 2520 is also lighter, at 615g than its soon-to-be step-sibling. That's because Nokia opts for polycarbonate plastic rather than the metal chassis of Microsoft's tablet, a rounded-edged slab that looks much like an oversized Lumia 1520.
The glossy red of our review model feels solid in the hand, though there's some noticeable flex to the back panel. On the front you get a 10.1-inch, 16:9 aspect Full HD display, which Nokia is particularly proud of: it uses a particularly bright 665 Nits LCD topped with Gorilla Glass 2, for improved outdoor visibility and broader viewing angles; there's also a special coating to supposedly cut down on reflections.
According to Nokia, while most existing tablets get used in the morning and in the evening, with downtime in-between, the Lumia 2520 is designed to help fill in that middle lull. The extra-bright display is part of that proposition, and it's certainly a great addition: the brightness means you can take it outdoors and work without having to necessarily worry about the angle of the sun, while watching video in the garden is eminently possible too. That does seem to be more down to brightness than reduced reflectance, however; we couldn't notice much difference on that front compared to other tablets.
The other special skill the Lumia 2520 offers is in its connectivity. Whereas most tablet ranges begin with a WiFi-only version, helping keep prices down, and some companies – like Microsoft – don't even offer cellularly-enabled models, Nokia has skipped WiFi-only altogether. As you might expect from a phone company, LTE is standard-fit for the Lumia 2520, with support for the 2,4,5, and 17 LTE bands, and up to 150 Mbps downloads.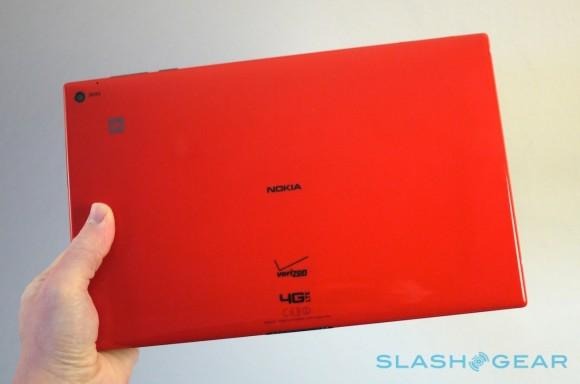 In the US, Verizon and AT&T will offer the Lumia 2520 complete with data packages, though of course owners will be able to use them WiFi-only (and the unsubsidized model will be $499); there's WiFi a/b/g/n (not 802.11ac) along with Bluetooth 4.0 and NFC. Other connectivity includes a microUSB 3.0 port and a micro HDMI port on one side, and a 3.5mm headphone jack on the other (confusingly similar to the charging connector which is also on the same edge). Along the top there's a power button and volume rocker, while on the bottom there's a proprietary docking connector.
That works with Nokia's optional Power Keyboard, which magnetically clings to the Lumia 2520 much in the way that Microsoft's Type Cover 2 keyboard attaches to the Surface 2. Nokia fits an extra flap to its version, though, which wraps around the opposite edge and helps keep the cover closed; it also accommodates a small trackpad. Nokia's keys have more travel than those on the Type Cover 2, and there's also an integrated battery billed as adding up to 5hrs more, and two full-sized USB 2.0 ports. Unfortunately, Nokia didn't have Power Keyboard samples available in time for review.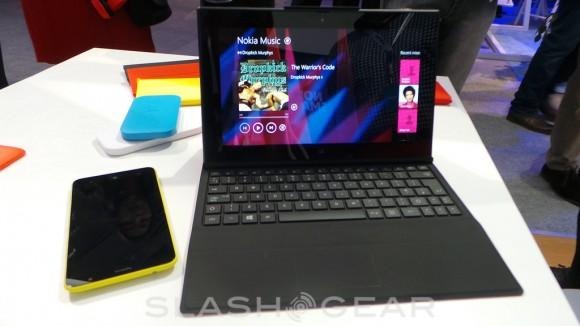 Inside, Qualcomm's 2.2GHz quadcore Snapdragon 800 is paired with 2GB of memory and 32GB of storage. There's also a microSD card slot, which shares tray space with the nano SIM card for the modem; it'll handle up to a 32GB card.
Software and Performance
Windows RT continues to be contentious, Microsoft's version of Windows 8 for ARM-based processors still occupying a shaky middle-ground where apps are in relatively short supply and background compatibility is absent. As we noted in our Surface 2 review, the situation is a little better with Windows RT 8.1, thanks to the inclusion of Outlook for enterprise users, while features like system-wide Bing search and more flexible split-screen layouts for multitasking help streamline things in everyday use.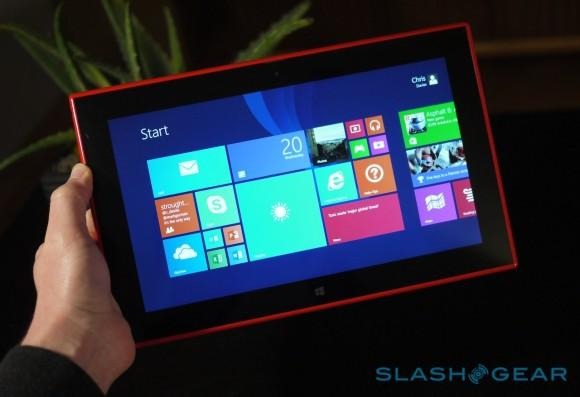 Performance-wise, the Lumia 2520 had no problems in everyday use, though the Snapdragon processor lags a little behind Surface 2 at least in browser benchmarks. In SunSpider, the test of Javascript performance, the Nokia slate finished in 492.5ms; the Tegra 4 powered Surface 2, in contrast, did it in 390.5ms.
A more important difference, however, is in software. Just as it did with Windows Phone, Nokia has taken a proactive approach to the shortage of RT apps and cooked up some of its own. Nokia Camera has been carried over from Lumia phones, offering more settings and options than you'd usually get on a tablet camera, while there's also HERE Maps and Nokia Music familiar from phones.
Nokia Storyteller launches simultaneously on the Lumia 2520 and the Lumia 1520, before spreading to other recent Nokia phones. Designed to corral your camera roll into a more meaningful log of your adventures, it automatically clusters themed photos into albums and allows you to view them on a map courtesy of geotagging.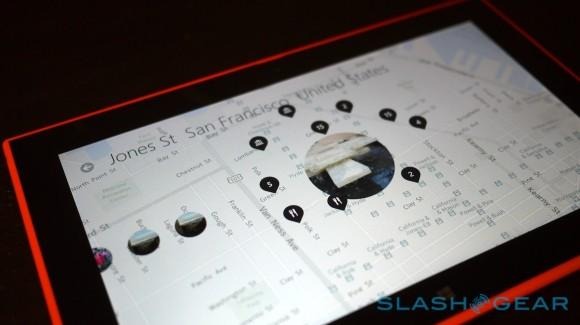 HERE's points-of-interests are also floated around each shot, in case you want to retroactively explore the surrounding area. We're not entirely sure why that would be something most people would actually want to do, however; in our experience, POI generally make more sense when you're actually at a place, not looking back on it.
Storyteller doesn't just work with photos taken with the Lumia 2520 itself, but with images in your SkyDrive storage, as well as those on your Lumia 1520. Phone and tablet can pair via NFC, with the 2520 and Storyteller used as a big screen to navigate through the photo content on your handset. It's handy if you want to show off photos to a group – the 6-inch Lumia 1520 is big, yes, but the 10.1-inch Lumia 2520 is bigger – but we wish there was support for group Storyteller use, simultaneously connecting a number of phones and having all of the photos pooled together on the map. That would be great for when you want to, say, relive a family holiday, or browse through all the photos taken at a particular party.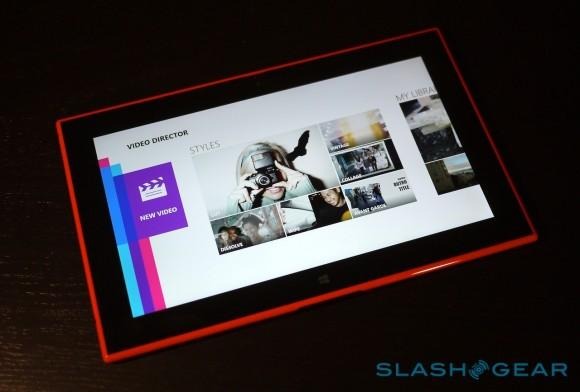 The other main homegrown app is Nokia Video Director, the company's answer to iMovie on the iPad. It's certainly a handsome app, pairing the bold colors of Nokia's Lumia phones with the 2D Live Tile interface from the Windows RT homescreen, and it makes cutting together simple videos straightforward too. You can use footage filmed on your tablet, or pair up a Lumia handset via NFC and transfer video from that over Bluetooth or WiFi.
Nokia includes a number of styles – cut, vintage, collage, dissolve, wipe, and avant garde – which effect how clips and photos are titled and captioned, how transitions work, and what background music is applied. From then it's a case of selecting which clips you want included, trimming them if necessary, dragging them around to organize them on a visual timeline, and then adding any text.
You can also swap out the default music for whatever audio you have saved on the Lumia 2520, though it needs to be a local track; you can't, say, add a playlist from Nokia Music. There's also no support for recording a voice-over, which limits how much professional use you might get from Video Director. Still, as a free app goes, it's a good example of how tablets can make content creation look easy, rather than being solely useful for consumption.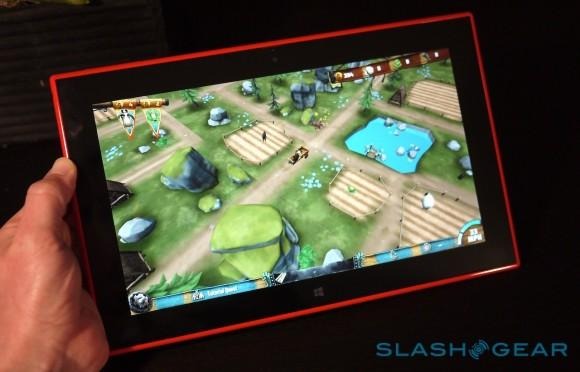 The final exclusive app is Dragons Adventure, produced in collaboration with DreamWorks. It's potentially the most ambitious, in fact, though the focus on young children gamers means many may overlook what's in fact the first title to be built on top of the Nokia Commuter platform.
Dragons Adventure sets out to recreate the surrounding world as a How to Train your Dragon movie, using GPS to pull in maps of the local area which are then redesigned, on the tablet's display, for gameplay. Roads become dirt tracks; traffic conditions are mimicked with blockades and other perils; and even weather in the real world is echoed on-screen. Inside that environment, children are set challenges like picking and training a dragon, harvesting crops, and other goals.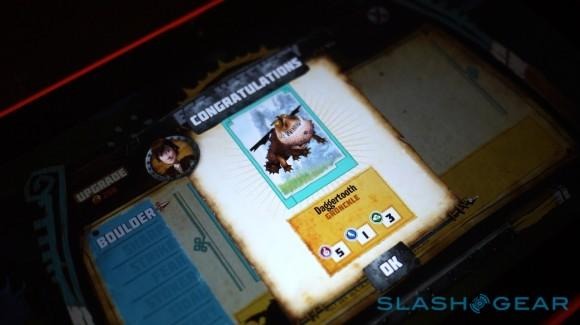 What makes Dragons Adventure interesting is how it plays out over multiple journeys. Designed to keep kids occupied during the school run, or to the grocery store, the previous play in the game is remembered for the next trip: so, crops you planted yesterday might be ready for harvest today. It also hooks up to a Lumia phone, so that the parent driving can see how the game is progressing, which challenge their kids have selected – transferred over via an NFC tap – and even take part.
It's obviously not for everyone, but it's a solid start for augmented reality gaming on Windows RT, and makes a reasonable case for picking up not only a Nokia tablet but handsets from its Lumia line. It's something we've been hoping to see Microsoft emphasize more since the Windows Phone launch – its Windows line as an ecosystem – but that the company has struggled to pull together despite paying plenty of lip-service to Xbox and Office on Windows and Windows Phone.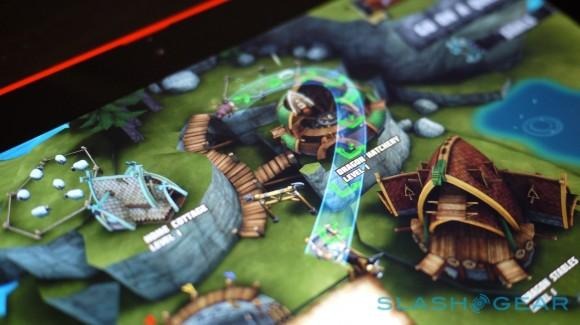 Camera
Taking photos with a tablet is usually a shortcut to being roundly criticized, but Nokia is tempting fate with the inclusion of 6.7-megapixel camera on the back and f/1.9 Carl Zeiss optics. It's actually the same camera as was included in the Lumia 720, with support for Full HD video recording. There's also a 2-megapixel camera on the front, for video calls.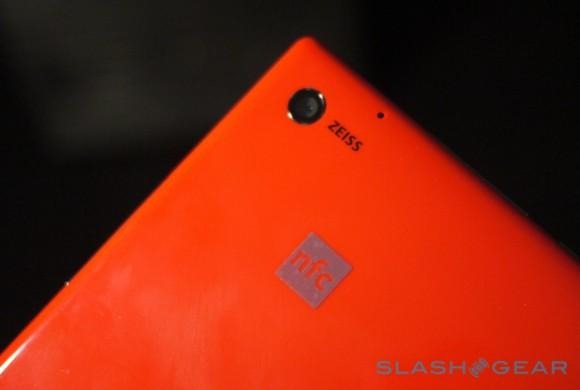 Unsurprisingly, photo quality is much in line with the Lumia 720 itself. That means you don't get the image superlatives of PureView, nor optical image stabilization, but natural looking shots and a slight tendency to over-expose brighter areas.
Battery
Nokia fits an 8,000 mAh battery to the Lumia 2520, insisting that it's sufficient for a full day of heavy use. It also takes advantage of more recent quick-charge functionality, building on Qualcomm's technology with some proprietary tweaks of its own.
The upshot is a tablet that can juice back up to 80-percent after just an hour on charge, and it's something you quickly get used to having. Being able to plug in and get back up to a usable level before you head out the door is a legitimate advantage over rival slates.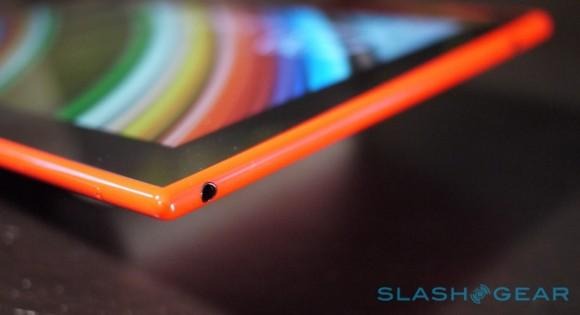 As for how that battery holds up, we got through a couple of days of regular use before the Lumia 2520 died. Nokia quotes up to 10hrs of video playback, though our testing involved a mixture of video, video editing, streaming media, ebook reading, some quick gaming, HERE Maps navigation, and emailing, over a combination of WiFi and LTE.
It's worth considering that our use of the Lumia 2520 might have been more extreme had we had the Power Keyboard around. Windows, even in RT form, still makes a lot of sense as a work machine, but extended typing on the on-screen keyboard is nowhere near as comfortable as with a physical 'board. Still, even if we'd used the tablet more in those circumstances, we'd also have had the cover's own onboard power supply to make up the difference.
Wrap-Up
Nokia needed a tablet. It took its time with the Lumia 2520, and in many places that consideration shows. The decisions to go with a more usable display and a fast-charging system do make sense for what's billed as a tablet for work and play, and while the absence of a WiFi-only model does mean there's no low-cost model, you have to give Nokia some credit for sticking to its connectivity guns.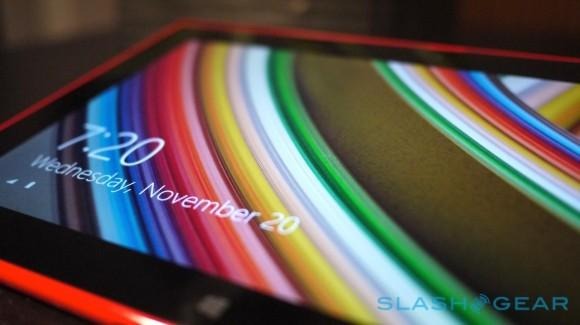 Would we opt for the Lumia 2520 instead of the Surface 2? Microsoft's tactile metal chassis is nice, but Nokia's standard LTE and the extra work it has put into apps like Video Director, HERE Maps, and Nokia Storyteller all make the Lumia more usable out of the box. We've deliberately avoided considering the keyboard covers both can be outfitted with, since we need to spend proper time with the Nokia's Power Keyboard first.
The problem Nokia faces is one any Windows RT slate does, however. Apple's 2013 iPad range is its best yet, and the standard of Android tablets – not to mention the number of Android tablet apps – has improved too. Meanwhile, full Windows 8.1 tablets from Dell, ASUS, and others offer the flexibility of a complete version of the OS at a strongly competitive price. The Nokia Lumia 2520 is a complete package when viewed in isolation, but the tablet market is a competitive one and it lacks that must-have feature to distinguish it.