Nokia 5800 XpressMusic hands-on roundup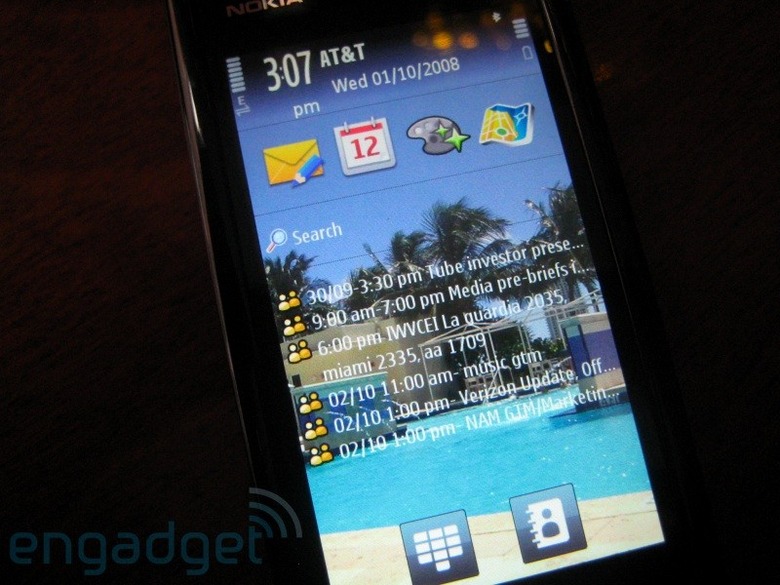 Nokia's 5800 XpressMusic may not be intended as the flagship handset to run the S60 Touch OS, but for the moment it's the best we've got.  Hands-on reports are coming in, and while the 5800 isn't going to oust too many iPhones, first impressions seem generally good.  The 5800 is a multimedia device at heart, and the touch-sensitivity is just an indication of where Nokia is going.More photos and video of the Nokia 5800 after the cutPhone Scoop rate the job Nokia's software engineers have done keeping the touchscreen modifications consistent throughout S60 while not rendering this latest version of the OS useless for non-touch devices.  Gizmodo describe it as "a solid mid-level touch phone for music", with the new Comes With Music unlimited download service doing a lot to sweeten the deal.  Meanwhile Engadget lament some of S60's complex abilities – that have seen it do duty on Nokia's E-series smartphone range – being buried, with the Contacts Bar interface (that collates messages, blog posts and other details from up to four people) being a step in the right direction but nonetheless limited in its scope.
All the reports agree, though, that as a multimedia handset Nokia have created an interesting mixture of device and service.  Comes With Music and a competitive price will be the 5800 XpressMusic's salvation; anyone who is looking for more will have to wait until Nokia's next touchscreen device.
Hands-on demo via Phone Scoop: