Nokia's Two Midrange Cell Phones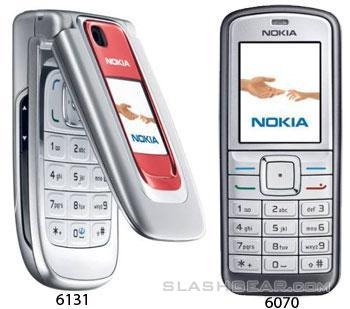 Nokia the world leader in mobile phones has recently launched 2 more phones in the camera phone segment, the 6131 and 6070. About the 6131, it's within the middle range. It's got a flap design and fitted with a 1.3-megapixel camera. It exclusive features comprise of one-handed easy open, a dual screen finder. This increases the give of the camera because you can use both, the main or the outside screen as a viewfinder for the camera. It's got a digital music player and an FM radio, and is compatible with Bluetooth and microSD memory cards. As per Nokia, the North American version will be announced later, and the price tag will read $329.
The 6070 is a lower end phone from Nokia which includes push to talk, a voice recorder, speakerphone and the obvious camera which is very basic. It does have an FM radio. It's priced at $161. Both the phones are expected to role out in the second quarter.