Nissan Nismo Concept Watch Unveiled, Monitors Your Health And Social Networks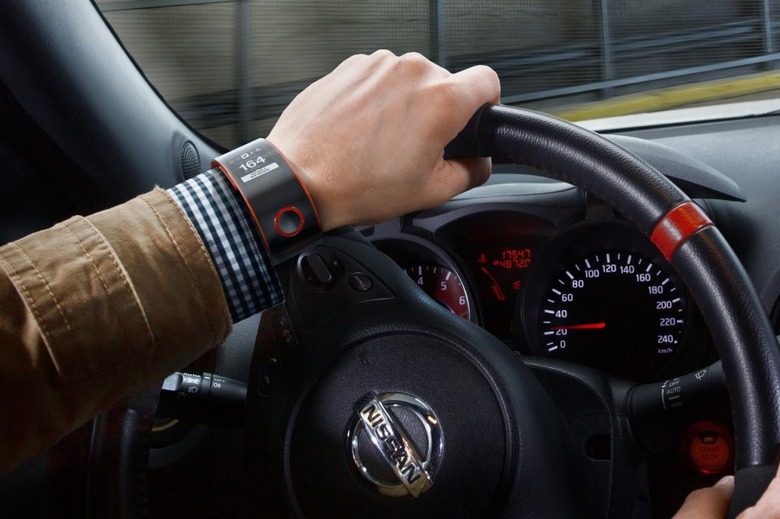 Following the rising popularity of wearable devices, Nissan has just launched its own Nismo Concept Watch ahead of the Frankfurt Motor Show this month. But rather than doing the normal things you think a smartwatch would do, the Nisma Concept's features focuses on keeping tabs on both the car and driver's status in order to improve the performance of Nissan motorsports athletes.
The concept of a smartwatch is nothing new these days, with almost everyone said to be making their own. Samsung has so far risen above other contenders with its recently unveiled Galaxy Gear smartwatch, but others will be sure to follow. While Nissan has seemingly jumped on the same bandwagon, it is putting its own twist, utilizing the technology for the benefit of its Nismo brand.
Nissan launched its Nismo Lab earlier this year. The lab is a mobile laboratory featuring training and analysis tools that utilize biometrics and telematics technology for monitoring race cars and their drivers. Nismo is launching this new device that it hopes will eventually make its way to athletes of other sports as well other Nissan owners in the future.
The Nismo Concept Watch features biometric technology such as ECG or Electrocardiogram that will measure the rhythm of the heart to monitor for early signs of fatigue. Drivers will also be able to get access to vehicle telematics and data such as speed and fuel consumption. Additionally, being connected to the car via a smartphone, the watch will also be able to keep track of the athlete's performance on social networking sites.
The Nismo Concept Watch will come in black, white, and Nismo's signature black and red colors. The packaging will similarly be inspired by Nismo's racing identity, being made of tyres and rubber. The watch's lithium battery will give it a life of over seven days and can be charged via micro-USB. Nissan has not given any pricing or availability details but will probably reveal more information in the upcoming motor show.
SOURCE: Nissan