Nissan Murano CrossCabriolet First Drive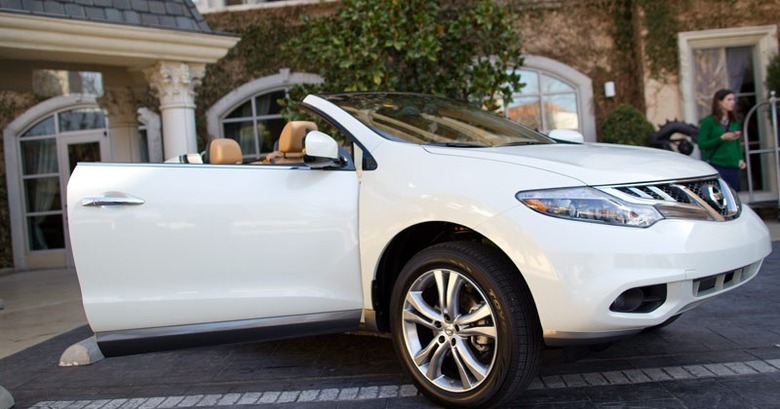 The was a time when having a convertible meant sacrificing rear seats and trunk space, but more and more vehicles are losing their heads and offering sunlit driving. Nissan, though, claims it has still managed a world's-first with the Murano CrossCabriolet, so far the only crossover AWD drop-top. On offer is a lofty driving position with room for four, along with a fast-shifting roof and all the safety kit you'd expect; Nissan invited SlashGear down to its Dallas showcase to take the Murano CrossCabriolet for a spin.
Aesthetically, it's a difficult one. In order to accommodate the relatively roomy back seating, the Murano CrossCab has a stretched appearance with the rear three-quarters looking somewhat unwieldy. It also leaves the soft top with a long reach to cover, though it still manages to drop or raise in 25 seconds. Nissan has added not only a glass rear window but a rear skylight to try to brighten up the interior, though the profile of the roof overall seems slightly too low to our eyes.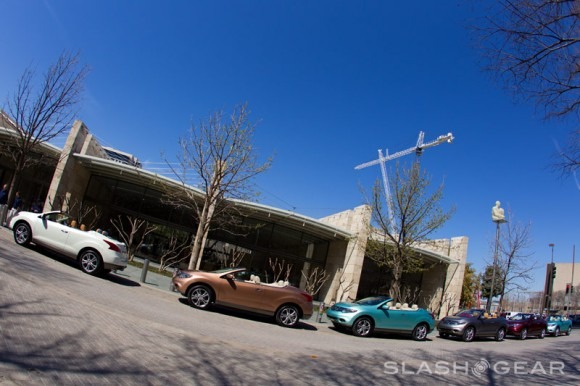 It's a balance issue that affects most non-traditional convertibles, however, and inside we have fewer complaints. Available in black, cashmere beige or a camel tan, there's plenty of soft-touch plastic while double-stitched quilted seatbacks and door-panel inserts are options. The wood-effect trim isn't going to convince you it's seen a forest, but neither does it look as plasticky as in many rivals.
Nissan has decided to offer a single model that's close to fully-loaded, with leather seating front and back. The front seats are heated, along with the steering wheel, and use a slope-shouldered design so that rear passengers can see out of the relatively narrow windows. ICE consists of Nissan's HDD navigation system, with a 9.3GB Music Box drive pumping your digital music collection through a Bose AM/FM/CD audio system. Eight speakers – including a sub – which automatically tweak their balance whether the roof is up or down, and a rear-view camera are all standard, together with XM NavTraffic. Generally it sounds strong, though despite the sub we felt the audio could do with some extra kick in the bass.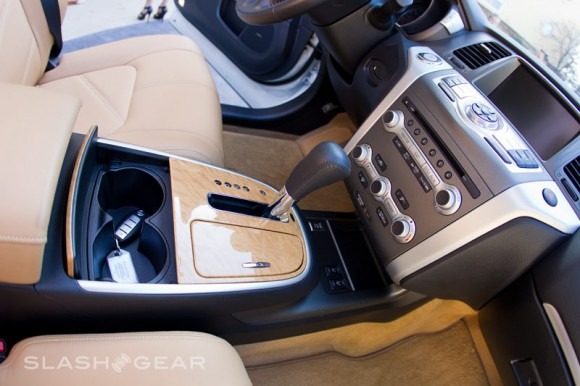 Safety consists of air-bags, side-impact air-bags up front and curtain air-bags linked to the roll-over sensor. The rear head-rests get pop-up roll bars, and there's active head restraints for the front. Electronically, Nissan throws in the usual acronym-fest of VDC (Vehicle Dynamic Control) and TCS (Traction Control System) to go with the CVT (Continuous Variable Transmission) gearbox and AWD (All-Wheel Drive).
Nissan Murano CrossCabriolet Showcase:
[vms eae32d30983b62252da5]
As you might expect, the combination of that electronic nannying and the extra structural support intrinsic in turning a regular Murano into a CrossCabriolet means the Nissan isn't exactly sports-minded. In fact, the company envisages the new model as "bridging the divide" between the lust-appeal of a convertible and the realities of everyday driving, the opportunity to get the top-down sun while also having plenty of room for passengers and in the surprisingly spacious trunk. The 3.5-liter, 24-valve V6 puts out 265 horsepower and 248 lb-ft of torque (Nissan claims 17 MPG in the city and 22 MPG on the highway), with complex independent strut front suspension and multi-link rear suspension and dual flow path shock absorbers.
The 20-inch wheels get speed-sensitive power steering which is easy for in-town driving but otherwise lacks feel; that's matched by the reasonably soft suspension which clearly prefers cruising to cornering. Not to say the Murano CrossCabriolet can't go round corners quickly – the various electronic systems kicking in as appropriate – but this is a cabrio bought for the elevated driving position rather than sports ambitions. Inside, road noise is louder than the regular car but quieter than many convertibles can manage, and the V6 is similarly hushed.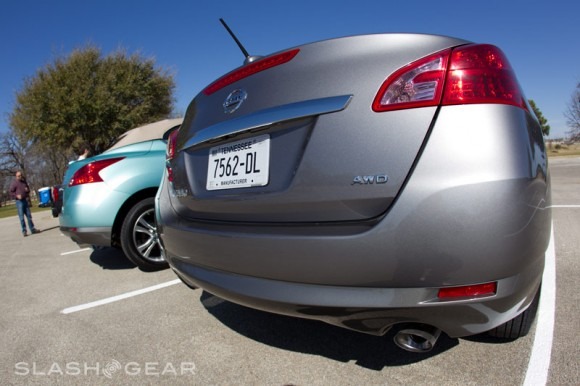 Nissan's target customer is early-middle-aged and probably female, kids grown up and looking for something more interesting and ambitious than a regular minivan. As treats go, it's definitely at the premium end of the Murano range: $46,390, though admittedly that gets you a practically fully-loaded model. The camel or cashmere versions will add another $500 onto the sticker price when the Murano CrossCabriolet arrives this spring. All the spec and safety boxes are ticked, but Nissan will need to persuade would-be buyers that the CrossCabriolet's somewhat awkward looks from certain angles don't detract from the pure aesthetic appeal expected from a modern convertible.