Nissan dealers to use ICP Solar Battery Chargers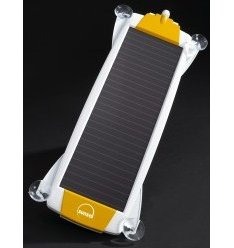 Cars, especially new ones that sit on the lot have a tendency to kill batteries.  Which is due to all of the embedded electronics that suck juice even when the car isn't in use.  Well for car dealers it can become a bit of a nuisance to have to replace batteries all the time.
Therefore Nissan has decided to use ICP solar chargers just for that purpose.  They will be sending them to the Nissan dealers in North American and Europe.
The chargers are meant to charge up 12-volt batteries on the new Nissans.  They are meant to work specifically while the car is parked and will cost up to $1350 a piece.  Since Nissan's president believes that the drain on batteries is just going to get worse and worse with the more technology we use in our vehicles he feels something like this is essential for car dealers.
[via ubergizmo]