Nintendo and Nyko reach agreement in Wii accessory lawsuit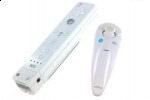 Today Nintendo of America Inc. and Nyko Technologies Inc. have announced that they have reached a resolution in the lawsuit brought on by Nintendo regarding Nintendo's intellectual property rights relating to its popular Nunchuk controller.
In the agreement, Nyko will still continue to sell a redesigned version of their Kama wireless controller that is designed to cut the cord on the current setup. "We are pleased to have resolved this dispute," said Nintendo of America President and COO Reggie Fils-Aime. "The Nunchuk and Wii brands are familiar to consumers worldwide, and Nintendo is dedicated to vigorous defense of those brands."
The Nyko Kama does closely resemble the current Nunchuk controller that Nintendo ships with their Wii gaming console. Nintendo most likely got a nice check cut in their name as part of the agreement. This lawsuit will in no way prevent Nyko from developing more accessories for Nintendo's popular gaming console.