Nikon D5100 DSLR packs ISO 102,400, Full HD, built-in effects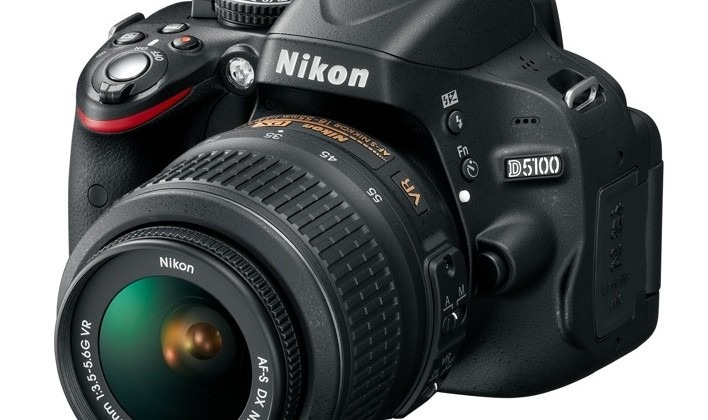 Nikon's latest DSLR is official, the D5100, promising Full HD video recording, 16.2-megapixel stills, and fancy features like in-camera HDR photography, ISO 102,400 for extreme low-light shots, and effects like selective color sampling. The Nikon D5100 also gets the company's EXPEED 2 engine, along with a vari-angle 3-inch monitor and 4fps continuous shooting.
It's also smaller and lighter than the D5000 it replaces, despite borrowing the CMOS sensor from Nikon's D7000. The standard F-mount means plenty of Nikon lenses to choose from, and it can record video at 24p, 25p or 30p in up to 1080p resolution. Storage is via SD/SDHC/SCXC memory card.
There's even a quiet shutter release mode, for when you don't want to scare the children, and HDMI connectivity with support for being remotely-controlled by your TV's remote. An optional $180 Stereo Microphone ME-1 can be used to reduce autofocus noise during video recording. Pricing will be around $900 for the Nikon D5100 body-only.
Press Release:
Digital-SLR camera Nikon D5100

Horizontal swing out, vari-angle monitor for better viewing, full-HD movie recording function and simple, orthodox operation for capturing the intended photos

TOKYO – Nikon Corporation is pleased to announce the release of the Nikon D5100, a Nikon DX-format digital-SLR camera equipped with a vari-angle monitor, and a CMOS image sensor and the EXPEED 2 image-processing engine that enable high-resolution rendering and rich expression of tones.

The D5100 is a member of the popular D5000 series. The D5000 was the first Nikon digital-SLR camera equipped with the vari-angle monitor that allows users to enjoy flexible shooting from a wide variety of angles. The vari-angle monitor adopted for the D5100 has been enlarged to three inches, and utilizes a side hinge that enables flexible use from more angles with hand-held shooting and when the camera is mounted on a tripod. The camera is also equipped with the D-Movie function that supports recording of full-HD (1920 X 1080p, 30p) movies, as well as a Special Effects mode with which a variety of special effects can be applied to still images and movies. The D5100 was designed to respond to the needs of a broad range of users, from those using a digital-SLR camera for the first time, to those looking for a camera that allows them to express their individual sense of creativity through still images and movies.

D5100 Primary Features

A high-resolution Nikon DX-format CMOS image sensor with an effective pixel count of 16.2-million pixels, an image-processing engine that provides superior image quality and rich expression of tones, and the new High Dynamic Range (HDR) function

HDR sample image

The D5100 is equipped with the same DX-format CMOS image sensor and EXPEED 2 image-processing engine as the high-end D7000 digital-SLR camera. These features enable capture of high-resolution images with excellent expression of tones. With standard sensitivity settings of ISO 100–6400 and additional increases up to Hi 2 (ISO 25600 equivalent), the camera offers improved capability with shooting under dim lighting, such as in the evening or indoors, and also produces better results with capture of rapidly moving subjects. The High Dynamic Range (HDR) function captures two shots of varying exposure each time the shutter-release button is pressed, and then combines the two shots into a single image with a broad dynamic range. Resulting images beautifully recreate the scene as seen with the naked eye, even with shooting of backlit scenes, with little or no loss of detail in shadows or highlights.

3-in., approximately 921k-dot vari-angle monitor with wide viewing angle and increased visibility

Vari-angle monitor movement diagram

Visibility has been increased with the large 3-inch, approximately 921k-dot high-resolution vari-angle monitor adopted for the D5100. In addition, the range of colors that can be reproduced by the monitor is equivalent to that of the sRGB gamut. Adoption of a side hinge for the vari-angle monitor prevents the monitor from hitting the tripod when it is opened while the camera is mounted on a tripod. The vari-angle monitor opens from 0 to 180° to the side, and can be rotated up to 90° clockwise and up to 180° counter-clockwise when it is open. This enables shooting from a wide variety of angles, from low to high, making even self portraits possible.

D-Movie for recording and editing of Full-HD movies

The D5100 is equipped with the D-Movie function that enables recording of high-definition movies (1920 X 1080p, 30p) exhibiting superior video quality. Autofocusing during movie recording is possible using contrast-detect AF. When the focus mode is set to full-time-servo AF (AF-F) and the AF-area mode to subject-tracking AF, the camera automatically maintains focus on a subject moving throughout the frame. The D5100 also offers in-camera movie editing functions that allow users to save a single frame as a still JPEG image or delete unnecessary portions from the beginning and/or end of movie files. What's more, the D5100 is equipped with built-in support for stereo audio recording via the Stereo Microphone ME-1 (available separately), and the mode dial and live view switch have been positioned on the same spindle in consideration of operational ease.

Mode dial, live view switch image(s)

Stereo Microphone ME-1 image

The optional Stereo Microphone ME-1 can be used to record sound in stereo while also preventing noise caused by lens vibration being recorded during autofocus.

The first Nikon digital-SLR camera to offer Special Effects mode

The D5100 offers special effects that can be selected and applied with both shooting of still images and recording of movies. Special effects are displayed with the view through the lens in the monitor before shooting or recording begins, allowing users to confirm the desired results in real time. Users can easily enjoy adding special effects to movies. This mode was adopted to respond to the creative intent of users searching for a way to express their own unique style and creativity.

The Special Effects mode built into the D5100 offers seven special effects, including Selective Color and Color Sketch.

Favorite Special Effects Selective color

Selective color sample image

All colors other than those selected by the user are recorded in black and white. Up to three colors can be selected at a time.

Color sketch

The camera detects and colors outlines for a color sketch effect. Users can use the monitor display to adjust the vividness of colors and the thickness of outlines.

Miniature effect

Distant subjects appear as miniatures for a diorama effect. Users can choose the orientation (vertical/horizontal) and width (narrow/normal/wide) of the area that will be in focus.

Night vision

When this option is selected, extremely high ISO sensitivities are used (up to ISO 102400 equivalent). This enables shooting under conditions of darkness while verifying the subject and composition in the monitor.

*RAW recording is not possible. Still images can only be recorded in JPEG (black-and-white) format. Only contrast-detect AF can be used.

Additional Features and Functions

High-speed continuous shooting at up to approximately 4 fps*,and a very precise and durable shutter unit that has passed testing for 100,000 cycles

Equipped with Quiet shutter-release mode for shooting in situations in which quieter shutter operation is desired

Infrared receivers for remote control operation on the front and back of the camera enable wireless control over the shutter from both in front of and behind the camera (optional ML-L3 wireless remote control supported).

Equipped with 16 scene modes that enable the simple capture of beautiful photos of the desired scene with automatic optimization of camera settings

Built-in HDMI-CEC compatibility enables control over playback of still images and movies using the television's remote control when the camera is connected to a high-definition TV via the HDMI connector.

*Manual focus, M or S mode, shutter speed 1/250 s or faster, and other settings at default values