Nikon D3100 DSLR Features Resurface, Significantly Upgraded From Previous Rumors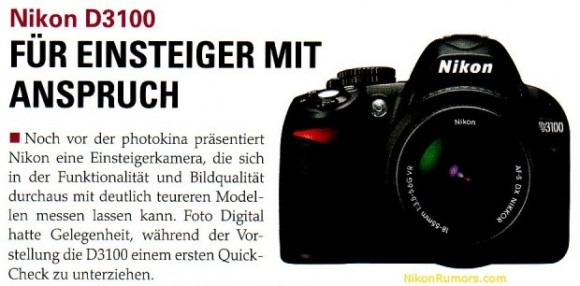 Near the end of July, the features list for the upcoming Nikon D3100 DSLR supposedly leaked. And, truth be told, they were all pretty standard upgrades. Nothing all too mind boggling and what not. But, they were still upgrades. This time around, thanks to a German magazine that has apparently published new and improved specifications for the entry-level camera, we're wondering which rumor is more accurate.
As we look back at the previous specs, we see that the camera supposedly features a 10MP CMOS sensor. Has 11 points of auto-focus, has the ability to shoot full 1080p HD videos, and Live View. However, nothing was mentioned about the ISO rating, which is the big takeaway from this latest "leak."
Now, the new specs look almost exactly the same as the rumor back in July, but with some significant updates. Instead of that 10MP sensor, the D3100 will now feature a 14MP CMOS sensor. It will have a 3-inch display, Live View, 11-point AF, feature full 1080p HD video capture, and an ISO rating between 100 and 12,800. That ISO rating is pretty intense, especially for the whole "entry-level" aspect, and if it really is true, then we're pretty excited for what's to come out of Nikon's labs. Now we just need one more big leak, and we're sure Nikon will get right around to officially announcing the camera.
[via CrunchGear]