Nikon COOLPIX S8100: 12MP, 1080p HD and ISO 160-3200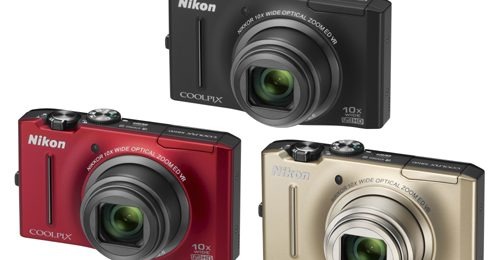 Nikon's second camera of the day, the Nikon COOLPIX S8100, lacks the manual control flexibility of the P7000, but gives buyers a 12.1-megapixel backlit CMOS sensor and 10x optical zoom instead.  The company is pushing it as ideal for low-light photography, aided by the EXPEED C2 processor, though it can also shoot Full HD video.
There's also dual image stabilization with both lens-shift and electronic vibration reduction, ISO from 160 to 3200, and f/3.5-5.6.  On the back is a 3-inch preview LCD, and you can shoot off five frames in half a second at full resolution.
Macro mode can cope with distances of just 1cm, and there are all the usual shooting modes to make things easier.  It'll arrive for $299 in red, black or gold later in September 2010.
Press Release:
Digital Compact Camera Nikon COOLPIX S8100

Additional new technologies for beautiful nighttime shots.

A high-performance model equipped with a superior backside illumination CMOS sensor for improved rendering and faster response.

TOKYO – Nikon Corporation is pleased to announce the release of the COOLPIX S8100, a stylish 10X zoom model with improved image quality in photos taken in dark surroundings and excellent performance with nighttime and dimly lit indoor shooting that often results in blurred photos.

According to the latest Nikon survey of compact digital camera users, the most common complaint is the inability to take the intended pictures of dark or dimly lit scenes due to blurring or the loss of background details and atmosphere when the flash is used. In response to this complaint, Nikon is working to achieve even greater improvements in image quality and power of expression with shooting in dark or dimly lit situations.

COOLPIX S8100 (Red)

By adopting a backside illumination CMOS image sensor for the new COOLPIX S8100, significant improvements in image quality achieved with technologies for shooting beautiful nighttime photos have been made. In addition, the camera offers a Night Portrait mode with new technologies that take advantage of the CMOS image sensor's high-speed capability by exposing the portrait subject and background separately and immediately combining the exposures. This enables capture of bright and beautiful, blur-free night portraits exhibiting very little noise, even with hand-held shooting. The S8100's effective pixel count is 12.1 million pixels. With a new image-processing engine, EXPEED C2, and a 10X optical zoom lens covering a broad range of focal lengths beginning at the wide-angle 30mm (equivalent with 35mm [135] format), the camera is capable of capture high-resolution photos. The COOLPIX S8100 is a compact camera packed full of a variety of capabilities and functions, including high-speed continuous shooting, recording of 1080p HD movies with stereo sound, and the Creative Slider function. It is recommended for those who want to make the most of their own power of expression.

Black

Gold

COOLPIX S8100 Primary Features

1. An effective pixel count of 12.1 million pixels and a 10X optical zoom NIKKOR lens with a zoom range beginning at the wide-angle 30mm focal length (equivalent with 35mm [135] format)

2. Superior functions, available only from Nikon, that enable even more beautiful capture of dark scenes

(1) Advanced technologies for beautiful nighttime shotsr

Four technologies for capturing blur-free images of night landscape, as well as portraits in dimly lit indoor situations or when the portrait subject is backlit. These technologies also enable the capture of beautiful pictures of dark scenes.

Less noise at high sensitivities

The new image-processing engine EXPEED C2, which supports high sensitivities and superior noise reduction processing technology enable the capture of beautiful, blur-free pictures with very little noise, even at high sensitivities. With support for a maximum sensitivity of ISO 3200 at the largest image size (12M 4000 X 3000), users can enjoy worry free shooting even in dark or dimly lit situations.

Lens-shift + electronic vibration reduction (VR) function

Two high-performance vibration reduction (VR) functions—lens-shift and electronic—can be enabled simultaneously. This eliminates the need for a tripod in dark places or at the maximum telephoto zoom position with effective vibration reduction equal to an increase in shutter speed up to four stops, for capture of beautiful photos with hand-held shooting.

Motion detection

The camera detects camera shake and subject movement, and automatically compensates by controlling shutter speed and ISO sensitivity to reduce blurring. This function is also convenient for freezing a moving subject.

Flash control

The camera provides optimal flash control according to shooting conditions. In dark surroundings, the camera automatically adjusts shutter speed to suppress blur caused by camera shake, and increases ISO sensitivity for beautiful exposure of background portions that the flash does not reach. When shooting backlit portraits, the camera automatically recognizes the human face and controls flash and focus for beautiful portraits every time.

(2) High-speed performance of the CMOS image sensor maximized with a high-speed continuous auto overlay function

Making the most of the features of the CMOS image sensor, which is capable of processing a huge volume of image data at incredibly high speed, the high-speed continuous auto overlay function reduces blur and noise with a high level of precision.

New technology adopted for Night Portrait mode

This new technology enables capture of bright, natural photos that more accurately reproduce the scene by combining background images captured continuously at high speed with varying exposure levels with a bright image of the portrait subject lit by the flash. The portrait subject is brightly lit while the ambience of the background is preserved, enabling hand-held shooting of beautiful souvenir photos of a night at the amusement park or at a dimly lit indoor party with friends.

Night Landscape mode for beautiful photos with hand-held shooting

Images captured continuously at high speed with a low ISO sensitivity setting (for less noise) are combined and recorded as a single blur-free image with very little noise. This allows users to immediately capture beautiful night landscapes on the spur of the moment with hand-held shooting and no prior preparation.

Backlighting mode that prevents loss of detail in highlights and shadows

When the HDR (high dynamic range) setting is enabled in Backlighting mode with shooting of scenes exhibiting great differences in brightness, the camera captures two consecutive images at varying exposure and combines the two for a single vivid photo with no loss of detail in highlights or shadows.

3. High-speed continuous shooting of beautiful photos at the maximum image size (12M 4000 X 3000)

Users can enjoy high-speed continuous shooting of up to five 12 megapixel photos with superior image quality at approximately 10 fps (at a continuous setting of "Continuous H"). In Sports continuous mode, ultra high-speed shooting of up to 54 photos at approximately 120 fps, certain capture of decisive moments in the rapid movement of athletes or even pets is possible. The pre-shooting cache is also used to record up to two shots before the shutter-release button is fully pressed.

-

Image size is fixed at "1M (1280 X 960)" in sport continuous mode.

4. 1080p HD movie recording with stereo sound and the ability to record still images during movie recording

The backside illumination CMOS image sensor enables high-quality recording of 1080p HD movies (1920 X 1080 pixels), even in dark surroundings. During movie recording, optical zoom can be used for flexible wide-angle and close-up recording. Movie recording is made more enjoyable with the ability to capture still images during recording, and in-camera movie editing functions.

-

The size of still images captured during movie recording varies according to the type of movie being recorded.

5. Bright and clear 3-inch, approximately 921k-dot TFT LCD monitor with wide viewing angle

With a monitor that is approximately 1.5X brighter than previous models, the display is even easier to see outdoors under sunny skies as well as indoors where the reflection of lights off the surface of the monitor can be problematic. The crisp and vivid display has been achieved for the large, ultra high-resolution monitor with superior rendering capability through the adoption of a clear color panel. With a wide viewing angle that supports viewing from an angle, the monitor is perfectly suited to both shooting and playback operations.

6. An elegant design incorporating functionality and beauty

The COOLPIX S8100 has been designed not only for a beautiful form, but also for superior operation with features such as a mode dial that allows for the smooth selection of a shooting mode and sufficient spacing on the top so that fingers do not interfere with the pop-up flash. The S8100 offers the style, functionality and pleasure that will make it a valued tool for years to come.

The most commonly used shooting functions, including Auto mode, Scene Auto Selector and Subject Tracking mode, can be quickly and easily enabled.

Other features

Macro photography with shooting as close as 1 cm (0.4 in.) to the lens for large reproduction of the subject

Creative slider for simple pre-shooting adjustment of image brightness, vividness and hue using a sample image displayed in the monitor

Scene auto selector with which the camera automatically identifies the scene and applies the optimal scene mode

Skin softening smoothes skin tones

Nikon COOLPIX S8100 Specifications

Effective pixels: 12.1 million

Image sensor: 1/2.3-in. type CMOS; approx. 12.75 million total pixels

Lens: 10X optical zoom, NIKKOR lens; 5.4-54.0mm (angle of view equivalent to that of 30-300 mm lens in 35mm [135] format); f/3.5-5.6; Digital zoom: Up to 4X (angle of view equivalent to that of approx. 1200 mm lens in 35mm [135] format)

Focus range (from lens): [W]: Approx. 50 cm to ∞ ,

[T]: Approx. 1 m to ∞ ,

Macro mode: Approx. 1 cm to ∞ (wide-angle position)

Monitor: 7.5 cm , approx. 921k-dot, wide viewing angle TFT LCD with anti-reflection coating and 5-level brightness adjustment

Storage media *1: Internal memory (approx. 102 MB),

SD/SDHC/SDXC memory card

ISO sensitivity: ISO 160, 200, 400, 800, 1600, 3200

Auto (auto gain from ISO 160 to 800)

Fixed range auto (ISO 160 to 400)

Sport continuous (ISO 160 to 3200)

Interface: Hi-Speed USB

Power sources: One Rechargeable Li-ion Battery EN-EL12 (supplied)

AC Adapter EH-62F (available separately)

Battery life *2:

(EN-EL12) Still pictures: Approx. 210 shots Movies: Approx. 1 h 20 min (HD 1080p)

Dimensions (WxHxD): Approx. 104.0 X 59.2 X 29.9 mm

(excluding projections)

Weight: Approx. 209 g (including battery and SD memory card)

Supplied accessories *3: Camera Strap, Rechargeable Li-ion Battery EN-EL12, Charging AC Adapter EH-68P/EH-68P (AR), USB Cable UC-E6, Audio Video Cable EG-CP16, ViewNX 2 CD-ROM

Unless otherwise stated, all figures are for a camera with a fully-charged

Rechargeable Li-ion Battery EN-EL12 operated at an ambient temperature of 25°C (77°F).

*1

Not compatible with Multi Media Cards (MMC).

*2

Based on Camera and Imaging Products Association (CIPA) standards for measuring the life of camera batteries.

*3

Supplied accessories may differ by country or area.