Nikon Coolpix S6600 compact shooter is first in series with hinged LCD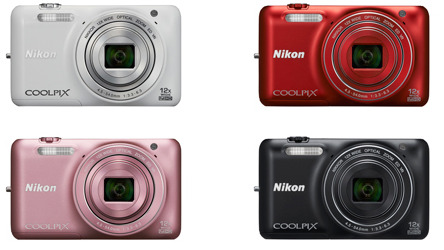 Nikon has introduce a new compact digital camera, the Coolpix S6600, which is the first in the S-series to feature a hinged LCD for multiple positions depending on the shooting situation. In addition to the "vari-angle monitor," the Coolpix S6600 also boasts Gesture Control, allowing users to take self portraits with a wave of their hand.
As far as hardware goes, the Nikon Coolpix S6600 features a backside-illuminated 16-megapixel CMOS sensor with lens-shift vibration reductions and a 12x optical zoom NIKKOR lens. All of this combines to offer images that Nikon says have "little noise." There's a macro feature that allows for taking images up to 2 centimeters away, as well, with the lens being wide-angle.
Video recording can be done in up to 1920 x 1080/60i with stereo sound being offered. There's a dedicated recording button and a pause button, with the latter allowing movies to be paused in the middle of filming for up to 5 minutes before resuming. The purpose of this feature, says Nikon, is to allow users to have a single video file with only the scenes they want, making it more convenient and also helping reduce the necessity of editing.
The photography portion of the camera offers scene modes, as well as Target Finding AutoFocus, Scene Auto Selector, and Smile Timer, the last of which offers up to 5-shot burst mode when a smile is detected by the camera. Software features the aspects we've come to expect from a modern compact digital camera, among them being special effects for video recording and quick effects for post-recording effects.
There are eight Glamour Retouch options for retouching photographs, each focusing on a different aspect of the scene. There's Soft Portrait, which does as the name suggest, as well as a Mirror special effect for horizontally mirroring half the content. Unfortunately, Nikon has not yet detail availability or pricing.
SOURCE: Nikon USA