Nexus 5 details expand on shipping floor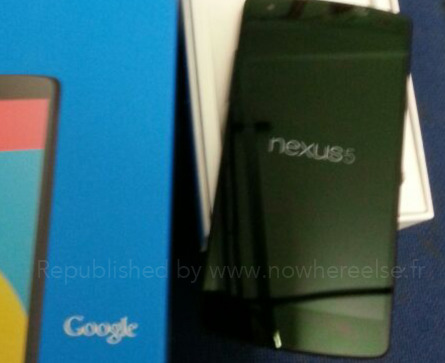 Today several photos have appeared from a shipping facility somewhere in the world with the Google Nexus 5 ready to hit stores sooner than later. This device is appearing with a black front, a black back, and a blue box not unlike that of the recent release of the 2013 edition of the Nexus 7. In its most basic aesthetic style, that is – there's a whole world of difference on the inside of this phone.
What you'll find here is a set of photos showing the Nexus 5 in a box, then outside of a box. The excitement rests not in the photos themselves, but in the idea that they're about to be shipped – or have just shipped recently – in bulk. This single photo of boxes of the Nexus 5 indicate that the machine will be headed to carriers at the outset.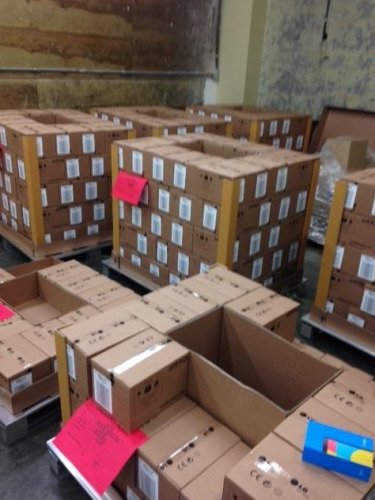 The Google Nexus 4 worked on a mostly Google Play scale, coming direct only to T-Mobile USA here in the states. The Google Nexus 5 may very well be seeing an expanded carrier push, with at least one carrier showing their face here (in leaks) before the final push. This same situation arose with the Samsung-made Galaxy Nexus, with several carriers chiming in with their own edition of the device – notably Verizon, of course, where the device was not as "vanilla" as it was in other iterations.
With the Nexus 5, we've seen enough leaks and tips to understand that the machine will be released with a 4.95-inch 1920 x 1080 pixel display, that coming out to be a cool 445 PPI. This machine works with a Gorilla Glass 3 front panel atop a 1.3-megapixel front-facing camera, with an 8-megapixel camera on its back with optical image stabilization (OIS).
Inside you'll find Android 4.4 KitKat with a Qualcomm Snapdragon 800 quad-core processor to keep it rolling. This device sizes up at 69.17 x 137.84 x 8.59mm, and weighs just 130g. Inside you'll also find Wi-fi at 2.4G/5G along 802.11 a/b/g/n/nc, and you'll have Bluetooth 4.0 as well as NFC with Android Beam.
This machine will be appearing soon – very, very soon. So soon that we'd be shocked if we didn't see it available for sale within the next two weeks.
UPDATE: There's a single dummy model appearing this morning as well, straight from the Twitter user Gavin Phelan in two iterations – one with a black LG logo, the other with a blue – or just shiny enough a logo that it's reflecting blue. Not sure what that's all about.
VIA: WindMobile, NoWhereElse