Newtrend Electronics Produces Nameless PMP With DVB-T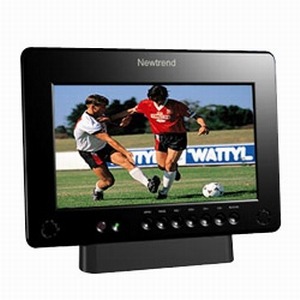 First off, I want to state that I am perturbed by the fact that we still don't have this wireless TV technology over here, sure the fact that the number of people per square mile in most oriental countries is considerably higher, allowing for a larger customer base for short range wireless devices, but still. Anyways, they have been blessed with another portable TV equipped with DVB-T and a 7" screen.
The DVB-T even supports the EPG programming guide and teletext. There is also a lengthy list of codecs supported, starting with WAV, AAC, MP3, WMA, M-JPEG, MPEG1,2,4 , JPEG, and DivX.
I know devices with 7" screens aren't usually considered too terribly portable, but this one is equipped with a Lithium Polymer battery for just that purpose. The screen albeit large, has a fairly low resolution, sitting at 480x234 and contrast of 300:1. As far as expansion goes, there are card readers for the following formats: CF, SD, MMC, MS, xD, SMC, and Microdrives. There is a remote, a pair of speakers cranking out a whole 2 watts of sound and a vehicle power adapter.
Unnamed Device Receives DVD-T, Gives Many Expandability Options [via PMPToday]