New Toughbook tablet from Panasonic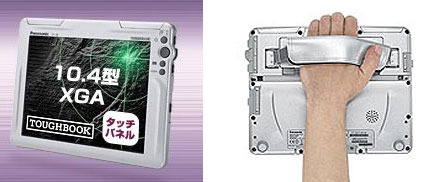 Panasonic is well-known for their Toughbook line of laptops. I know I've used (and repaired) several of them in my day, and I've always been impressed by their performance and durability. Now they're introducing the new CF-08 tablet to their line.
One of the problems I have always found with the Toughbook line is their bulk. They've really been working on that in recent times, and the CF-08 weighs in at an impressive 2.6 pounds. That's not bad for a tablet that can really take a beating. One of the features that I like is the inclusion of a built-in strap on the back to help you keep your grip.
They haven't released a lot of details just yet, but we know that it's going to include WiFi, and Bluetooth. The battery is expected to last you about 4.5 hours. No word yet on pricing, but it is due to release in Japan on May 15th.
New Panasonic Toughbook In Tablet Form [via bornrich]