New PMP From TEAC Gives Apple a Run For Their Money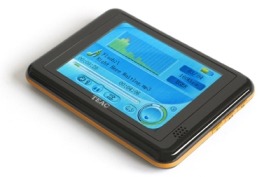 Sure its small available capacities(1, 2, and 4GB) are a slight defect, but it offers up a few features no iPod ever has. Such features as a touchscreen, FM radio, SD/MMC card slot, and those are just the hard hitters. The TEAC MP-600 looks pretty too.

File support includes MP3, WMA, JPEG, and AVI. The WMA supports DRM and the AVI supports XVID. Really the only thing its missing is a few more gigabytes of storage capacity, but with the card slot anything is possible.
Touch Screen Enabled TEAC MP-600 [via anythingbutipod]