New Nook will reportedly feature a "revolutionary" screen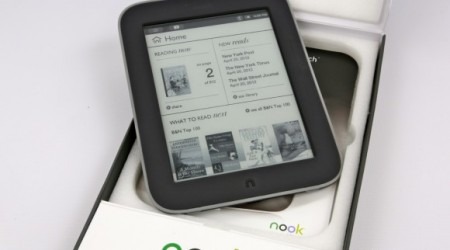 Display quality is playing an increasingly important role for tablets, with manufacturers now moving towards higher resolution screens or adding other features that add to the overall experience. CNET has heard from a reliable source that Barnes & Noble is planning a shake up with its Nook tablets, saying that the company is aiming to introduce a new 7-inch tablet with "revolutionary screen technology."
The technology has reportedly been developed in house with the aid of "another company." Not only that, but it will be the first time the screen technology has made its debut in any product. Other details of the new tablet are minimal, with CNET's source saying that the tablet will be lighter but continue to run a skinned version of Android.
As to what the screen technology could be, The Digital Reader has tried to break down the various possibilities. Pixel Qi has been working on a screen that matches the Retina resolution on the new iPad while consuming less power, but it hasn't entered production yet. Mirasol is another option, which would add color to ereaders, but the factory that would produce the technology still needs to be built.
It's possible that Barnes & Noble's source is simply hyping up the technology and that it's a relatively small step. Still, we won't know until the next Nook tablet is released. Reports indicate that it's due sometime in September or October, with a lower price point to match more affordable tablets that have cropped up at the $200 bracket.