New iPad screen images surface featuring updated FaceTime camera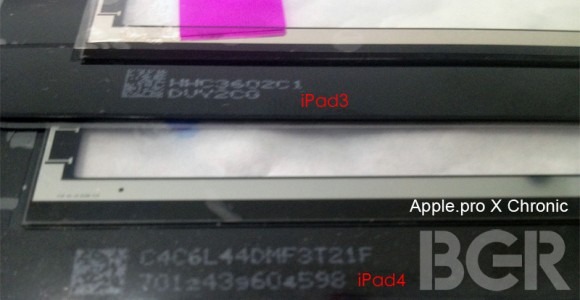 We've all heard about the much-anticipated iPad mini, which is expected to be announced tomorrow at Apple's big event. It seems the iPad 4 is also in the making, with a picture purported to be the device's lightening dock connector appearing on BGR yesterday. Now, earlier today, another two images have surfaced of a new iPad screen featuring an optically-bonded display and upgraded FaceTime camera. Whether the images belong to an upcoming iPad 4 or the anticipated iPad 3 refresh is unknown, according to BGR.
The images are via Apple.pro, and the source claims they are components for the upcoming iPad 4. Visible in the images is a larger FaceTime camera hole, indicating that Apple is adding a larger camera sensor into the device. Also new is an optically-bonded display, which will improve image quality while reducing glare.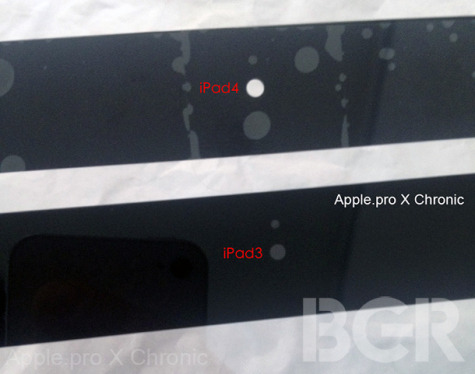 Presently, the iPad features a 0.3MP FaceTime camera, and the iPhone 5 and 5th generation iPod Touch both feature a 1.2MP FaceTime HD camera. It seems likely that Apple plans to put the same 1.2MP camera into the iPad 4. Little else is known about the rumored device, except that it would likely be launched in spring of next year.
Presently, Apple seems to be focusing on a miniature iPad, which is said to feature a 7.85-inch display, and to be launched in white or black as 16GB, 32GB, and 64GB models. Apple is holding an event tomorrow morning at 10AM PST, which we'll be liveblogging, and is anticipated to announce the upcoming 13-inch MacBook Pro with Retina.
[via BGR]