New High Gain wireless adapters from Buffalo work up to 1600 feet away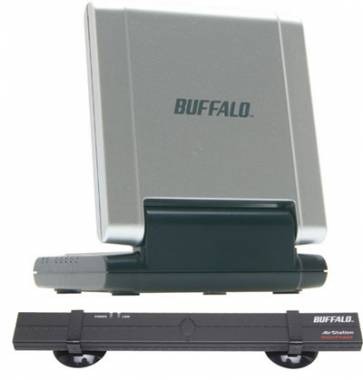 Sometimes your regular wireless card just won't cut it. I know of a few places that I like to frequent where I'm just on the edge of a wireless signal, so I either get a really poor connection, or non at all.
That's where Buffalo Technology's new Wireless-G High Gain USB 2.0 adapters come into play. The first one, the WLI-U2-SG54HG has an omni-directional antenna that will attach itself to the back of your laptop (or desktop if you prefer) with suction cups. The other WLI-U2-G54HG is a unit that sits next to your notebook that is lightweight and has a signal strength indicator built-in.
The best part of all is that according to Buffalo, you can get wireless signals from up to 1600 feet away. You'll be able to pick these up sometime in May for only $49 each.
New Buffalo Hi Gain USB WiFi Antenna with 1600 ft Range [via everythingusb]