New B&N nook orders delayed until January 11th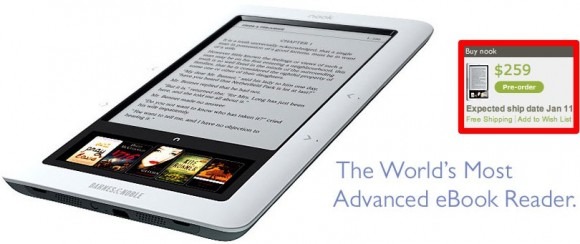 Barnes and Noble can't seem to get a break with the nook ebook reader: having confirmed yesterday that the Android-powered dual screen device would only see limited in-store availability, the online listing now suggests that new year shipments won't begin until January 11th.  That's a week later than the January 4th date B&N told us yesterday.
Meanwhile preorders of the ebook reader are also apparently delayed, with Engadget having heard from customers that their shipments have similarly been pushed back.  The hope is that B&N will still be able to deliver before December 25th, but considering those who preordered were told they should receive their devices by the end of November, it suggests significant unforeseen issues in the retailer's supply chain.
If you're near a large Barnes and Noble store on December 7th, the company is saying there'll be limited numbers of nook units available for purchase there.  If not, they're offering a wrappable gift-certificate which basically promises a nook to whoever the lucky recipient is on Christmas morning.
Barnes & Noble nook hands-on:
[vms f29526a11a9b7ac33bfa]
[via Engadget]