Netflix Xbox 360 streaming suffers Sony Pictures pull-out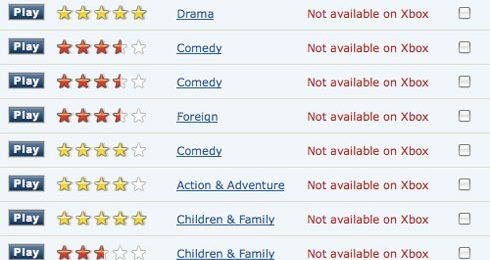 Microsoft's New Xbox Experience update is currently installing on consoles all over, but those hoping to gorge themselves on Netflix streaming movies may find their appetite left unsated.  Licencing issues with Columbia Pictures, a subsidiary of Sony Pictures Entertainment, has left the Netflix options suddenly truncated; films available to view through other Netflix routes are not permitted on the Xbox 360.
According to Netflix corp. communications VP Steve Swasey, the licencing issue is part of the "natural ebb and flow" of ever-changing deals between studios.  Considering the Xbox 360 is a prime competitor to Sony's PS3 console, this particular case of ebb and flow does look a whole lot more like Sony dumping waste in the water supply to sour the NXE launch.
"As watching instantly becomes a more prominent part of the Netflix service, our goal is to have all of our streaming content licensed for all of our partner devices. We're doing well in this area, but it will take some time before we fully achieve that goal. Today, titles regularly come in and out of license and there is a natural ebb and flow to what we have on license at any given point in time. In the case of Xbox 360, a few hundred titles are temporarily unavailable to be streamed via the Xbox game console. Those titles are still available to be watched on subscribers' computers and on TVs via other partner devices, and we hope they'll be licensed for Xbox 360 shortly" Steve Swasey, communications VP, Netflix
There's no public timescale for when the absent titles – which apparently number in the "few hundreds" – may become available on the Xbox 360.  Swasey describes it as a temporary issue, but it remains to be seen whether Sony will play ball.