Netflix 'Watch Instantly' arrives on TiVo: streaming SD & HD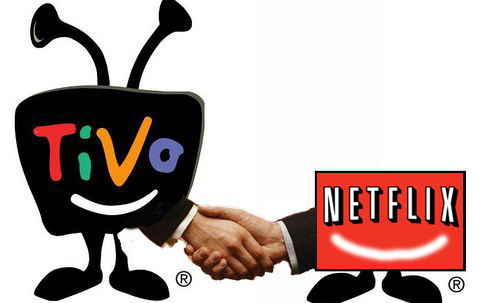 Now we know why TiVo were so keen to deny that Amazon HD rumor: heaven forfend it should over-shadow today's announcement of Netflix SD and HD on the Series3, TiVo HD, or TiVo HD XL DVRs.  First promised back in October, the service offers Netflix's 12,000-strong catalog of movies and TV episodes direct to your TiVo, with no premium above the standard $8.99 subscription.  A mixture of standard-definition and high-definition titles are available.
As with other Netflix implementations, such as Roku's standalone streamer and the Xbox 360 client, users must first queue up titles using the rental service's online portal.  After that, anything on the Instant Queue list can be selected directly from the TiVo menu, without the computer needing to be switched on.
You're also able to browse synopses and rate movies, with full pause, fast-forward, rewind and re-start control over content.  Netflix describe their current HD offering as "modest", but are promising more to choose from over the coming months.  The Netflix on TiVo system should automatically be added to the DVR in a system update.
Press Release:
LIGHTS, CAMERA, ACTION! MOVIES AND TV EPISODES FROM NETFLIX DIRECTLY TO THE TV THROUGH TIVO DVRs AVAILABLE TODAY

Just in Time for the Holidays, Offering Brings Budget Conscious Entertainment to Consumers

ALVISO, Calif. – December 8, 2008 — After announcing a groundbreaking partnership in October with Netflix Inc., TiVo Inc. (NASDAQ: TIVO), the creator of and a leader in television services for digital video recorders (DVRs), today announced that subscribers to both Netflix and TiVo® Series3, TiVo HD, or TiVo HD XL can now access thousands of movies and TV episodes instantly streamed from Netflix directly to their TVs.

The service is being offered at no additional charge to customers who subscribe to both services. This morning subscribers can browse through an expanding library of more than 12,000 movies and TV episodes at www.netflix.com, add them to their Netflix instant Queue, and then watch them on TV with just a click of the TiVo remote. The library includes titles from every genre, with a modest selection of HD content available as well. Both standard and HD titles are expected to grow in the weeks and months ahead.

"With so much talk focusing on the economy these days, this partnership makes more sense than ever because it brings people more movies at home, offering substantially more entertainment options than cable or satellite, said Tara Maitra, GM and Vice President of Content Services at TiVo Inc. "TiVo offers consumers everything they need from just one box. Not only great content from Netflix, but also movies from The Walt Disney Studios and Amazon, music from Rhapsody, videos from YouTube and even pictures from Picasa Web Albums and Photobucket. And that's all in addition to TiVo's core functionality that made us a favorite in the first place. It adds up to a one-of-a-kind value."

"Netflix offers an unbeatable combination of convenience, selection, and value, which now extends to TiVo customers," said Netflix Chief Marketing Officer Leslie Kilgore. This partnership is a win-win-win for Netflix, TiVo, and consumers alike."

Movies are streamed from Netflix through TiVo DVRs via wired or wireless broadband connection and a Netflix Queue-based user interface. Members visit the Netflix Web site to add movies and TV episodes to their individual instant Queues. Those choices will automatically be displayed on subscribers' TVs and are available to watch instantly through the TiVo service. With the TiVo remote control users can browse their instant Queue, make selections right on the TV screen, as well as read synopses and rate movies. In addition, they have the option of pausing, fast-forwarding, rewinding and re-starting whenever they wish.

For more information on how to have movies instantly streamed from Netflix via your TiVo DVR visit www.tivo.com/netflix.

About TiVo Inc.

Founded in 1997, TiVo (Nasdaq: TIVO – News) pioneered a brand new category of products with the development of the first commercially available digital video recorder (DVR). Sold through leading consumer electronic retailers and our website, TiVo has developed a brand which resonates boldly with consumers as providing a superior television experience. Through agreements with leading satellite and cable providers, TiVo also integrates its DVR service features into the set-top boxes of mass distributors. TiVo's DVR functionality and ease of use, with such features as Season Pass(TM) recordings and WishList® searches and TiVo KidZone, have elevated its popularity among consumers and have created a whole new way for viewers to watch television. With a continued investment in its patented technologies, TiVo is revolutionizing the way consumers watch and access home entertainment. Rapidly becoming the focal point of the digital living room, TiVo's DVR is at the center of experiencing new forms of content on the TV, such as broadband delivered video, music and photos. With innovative features, such as TiVoToGo(TM) transfers and online scheduling, TiVo is expanding the notion of consumers experiencing "TiVo, TV your way. ®" The TiVo® service is also at the forefront of providing innovative marketing solutions for the television industry, including a unique platform for advertisers and audience research measurement.

TiVo, 'TiVo, TV your way.', Season Pass, WishList, TiVoToGo, Stop||Watch, Power||Watch, and the TiVo Logo are trademarks or registered trademarks of TiVo Inc. or its subsidiaries worldwide. © 2008 TiVo Inc. All rights reserved. All other trademarks are the property of their respective owners.

Forward Looking Statements

This release contains forward-looking statements within the meaning of the Private Securities Litigation Reform Act of 1995. These statements relate to, among other things, the expected future availability of instant streaming from Netflix to TiVo subscribers who have specified model TiVo DVRs. Forward-looking statements generally can be identified by the use of forward-looking terminology such as, "believe," "expect," "may," "will," "intend," "estimate," "continue," or similar expressions or the negative of those terms or expressions. Such statements involve risks and uncertainties, which could cause actual results to vary materially from those expressed in or indicated by the forward-looking statements. Risks and uncertainties that may cause actual results to differ materially include delays in development, failure to deploy the capability beyond initial testing, competitive service offerings and lack of market acceptance, as well as the other potential factors described under "Risk Factors" in the public reports of Netflix, Inc. and TiVo Inc. filed with the Securities and Exchange Commission, including each companies' most recent Annual Report on Form 10-K, Quarterly Reports on Form 10-Q and Current Reports on Form 8-K. Netflix and TiVo caution you not to place undue reliance on forward-looking statements, which reflect an analysis only and speak only as of the date hereof. Netflix and TiVo disclaim any obligation to update these forward-looking statements.