Neato Botvac D7 memorizes rooms for robo-vac no-go zones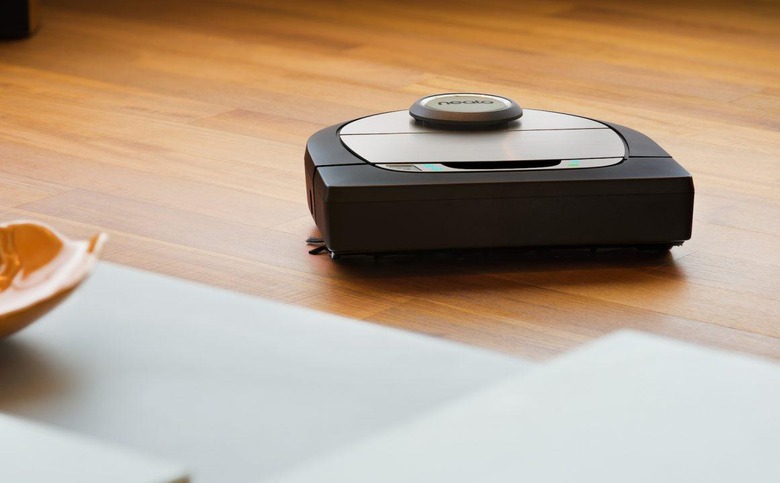 Of all the visions of the home of the future, the most alluring is generally handing over cleaning chores to a robot. In practice, though, it can be the most frustrating, too, as anybody who has returned home expecting vacuumed floors but instead found a robo-vac chewing through their phone charger can attest to. Neato thinks it has the answer, with a smarter, more flexible model launching at IFA 2017, the Botvac D7 Connected.
It follows Neato's established design, a D-shaped robot with a near-full-width cleaning brush at the widest side. It's topped with the company's LaserSmart navigation system. A new finish, Neato tells me, should be more resilient to the sort of scratches robots incur as they occasionally collide with furniture.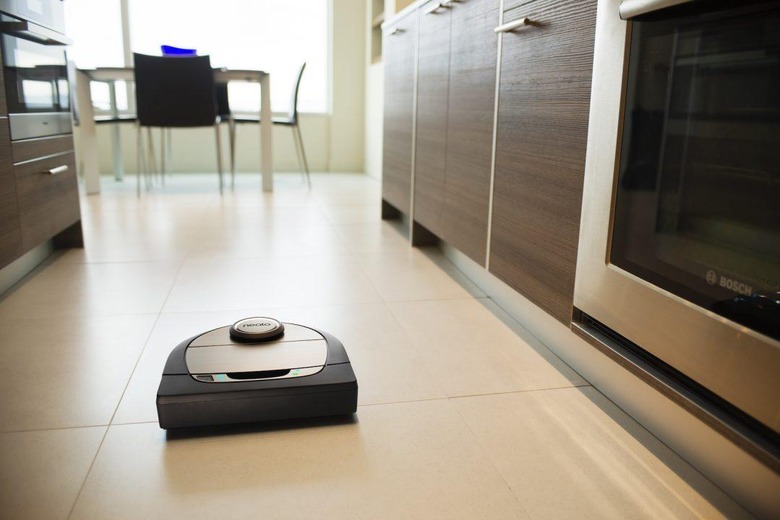 The big change is in how the Botvac D7 Connected handles mapping. Previously, in the companion app, you'd get a floor plan after every clean to show you where exactly the robot had been. The new MyFloorPlan feature builds on that by saving the map and allowing you to set virtual "no-go" lines across it.
So, if your robo-vac invariably got caught on a step between two rooms, you can zone that off virtually. Should the space under your desk be a nightmare of cables, you can tell the D7 to ignore it completely. Over time, the map is updated as the robot refines its view of the home, including marking off any changes in furniture or other obstacles.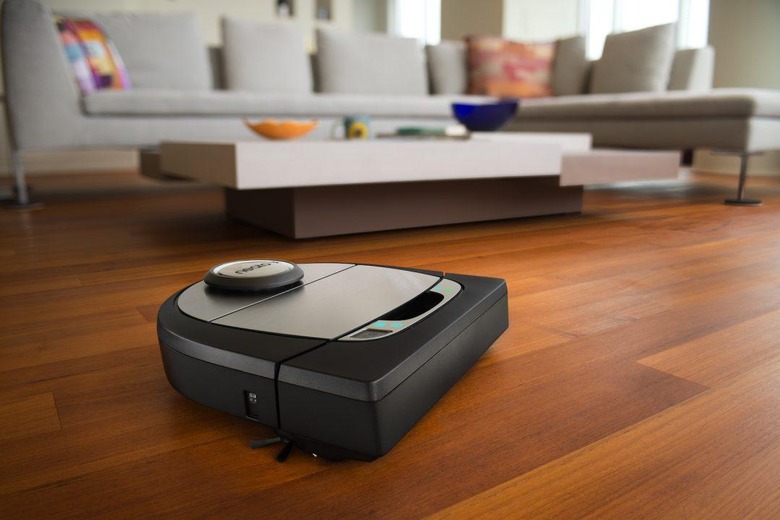 It's a clever idea, though there are some things to consider in this first-generation implementation. Probably most restrictive is the fact that the D7 can only memorize a single floor plan. If you take it to a new area, it'll forget the previous plan and start to create a new one from scratch.
That's fine if you set the robot up in a single location and it only ever roams around that one area. It's not, though, if you plan on using the D7 on, say, multiple floors in one home. Neato tells me that you can quickly perform the mapping step with a so-called Discovery Mode, faster since it's not also cleaning, then set up your no-go zones. Still, I can't imagine doing that each and every time.
Luckily, you still get the regular magnetic strips you can install under rugs or carpet, or around the edges of zones you don't want the D7 to go. Neato points out to me that the new architecture of the robot and the updated app will mean that OTA updates for adding features like floor plan profiles should be easier down the line, too.
Available today, meanwhile, is both the Amazon Alexa and Google Home integration of existing Botvac Connected models, joined by IFTTT support. That opens up the possibility of linking a Neato vacuum into a broader Internet of Things automation: you could, for instance, have the robot automatically start up when an IFTTT recipe says everybody has left the house. It's not just for the new D7, either, with IFTTT also supported on the D3 Connected, D5 Connected, and former flagship Botvac Connected models too.
As for the Botvac D7 Connected, that goes on sale in Q4 this year. It'll be priced at $799.