Multi-Functional Digital Camcorders From Mustek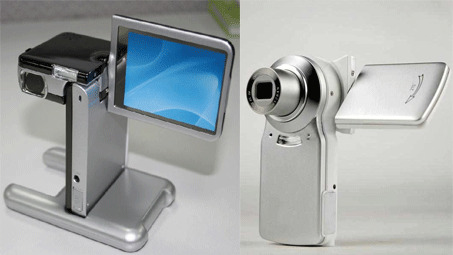 The new Mustek DV700TZ and DV530TZ camcorders are simple to use as point-and-shoot cameras. These new camcoders are designed to be very compact and portable with multi functions such as built-in digital still camera, digital voice recorder, MP3 player and webcam.
The DV700TZ features 3X optical and 8X digital zoom with 7.0 megapixels CCD sensors and equipped with 2.5inch LTPS swivel LCD displaying 720 X 480 resolutions at 30fps. A 64MB internal memory is not very ideal for video capturing but you have the options to add more storage using its SD memory slot.
The cheaper DV530TZ features a 5.3MP CCD sensor for recording 640 x 480 video at a fluid 30 frames-per-second in MPEG-4 format. As with the DV700TZ, there is also WAV-format voice recording, MP3 music playback, and webcam capabilities.
The DV700TZ will cost you $299 and DV530TZ will retailed for $229.