MSI Wind For Sale On Amazon, But No 3-Cell Battery Price Cut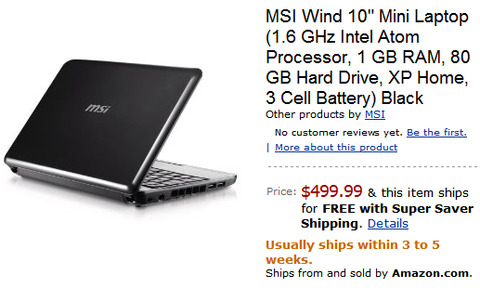 We may receive a commission on purchases made from links.
MSI's Wind notebook is now available to purchase on Amazon, priced at $499.99.  Delivery is estimated as taking 3-5 weeks.  The notebook was meant to ship to pre-order customers on June 27th, but shortages of batteries have forced MSI to again delay it.
The MSI online store is now showing the Wind again (at one point it had been removed), but they are not available to pre-order.  Delivery is suggested for July 7th, however, in keeping with MSI's latest email to pre-order customers.  Initial versions will be supplied with the 3-cell battery pack, rather than the 6-cell, and although MSI have reduced the price (to $479.99) that doesn't appear to have been reflected in Amazon's pricing.
The Wind is powered by Intel's 1.6GHz Atom CPU, has 1GB of RAM and an 80GB hard-drive.  It's currently number three in Amazon's 'Notebooks' sales category.
[via ComputerMonger]