MSI CES 2010 Range Hands-On: Wind U160, X-Slim, More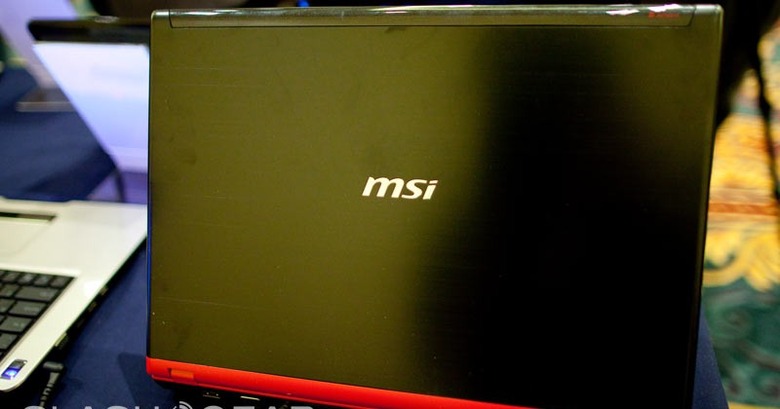 MSI have rolled out their CES 2010 line-up, and we stopped by to grab some hands-on time with the new laptops, netbooks and all-in-ones.  While the company might have made a particular name for itself with its budget Wind netbooks and X-Slim ultraportables – with the new Wind U160 and WiMAX-ready U135, together with the X-Slim X620 making their debut this week – they've also got some more horsepower-ready machines, including the Core i5- and i7-based G-Series gaming laptops.
Those G-Series machines include the Core i7 powered GT640 and GT740 and the Core i5 based GX640 and GX740, all of which get discrete graphics and some reasonably distinctive case designs.  MSI are yet to confirm pricing, but we're guessing – given the company's past form – that they'll be competitive.
Hands-on, the U135's proven design feels better put together than the arguably more stylish U160, the latter throwing in some unpleasant flex – particularly around the keyboard – along with its skinny frame.  As for the X-Slim machines, the form-factor is still thin (we called them MacBook Air clones at CES 2009, and our opinion hasn't changed) but we wish MSI would tweak the design a little to better distinguish the newer models.  Inside, though, things are bang up to date with Intel's Arrandale-series processors, and the demo units seemed fast enough.
MSI's all-in-one desktop, the Windtop AE2400, distinguishes itself with Windows 7 and a new multitouch-capable 24-inch touchscreen, which proved responsive if prone to fingerprint smudges.  Happily they've used Intel Core 2 Duo CPU and NVIDIA GeForce 9400 graphics rather than Pine Trail Atom chips, which should hopefully mean that the all-in-one can keep up with the sort of high-definition video its 1920 x 1080 display is capable of.
Press Release:
Chic and Innovative, MSI to Cause a Stir at CES 2010

MSI will unveil stylish, new award-winning notebooks and AIO computers featuring the newest high-performance platforms, as well as several new concept products

CITY OF INDUSTRY, CA – January 5, 2010 – MSI Computer, a leading manufacturer of computer hardware products and solutions, will display several new notebooks and desktops at CES 2010 in Las Vegas at its booth – South Hall 3 of #30651 in the Las Vegas Convention Center. The CES line-up will include G-Series gaming laptops equipped with Intel's newest Calpella platform, GE-Series and 3D entertainment notebooks, C-Series notebooks equipped with the Arrandale platform's Intel Core i5 Processors, the popular X-Slim Series of gorgeous ultra-thin laptops featuring Windows 7, the Wind U-Series of stylishly slim netbooks, Wind Top touch screen AlI-in-one desktop computers and several innovative concept products.

MSI's innovative 2010 product series represents the company's strongest portfolio of computer products ever. This includes the Wind U160 netbook and the X-Slim X620 ultraportable notebook, which both recently won Germany's iF Product Design Award for 2010—the design world's equivalent of an Oscar. MSI will also display the ultra-thin X-Slim X360, the first notebook in the world to feature Intel's trailblazing Arrandale ULV processors, and the classic Wind U135, the world's first netbook equipped with the new generation Pine Trail platform to be WiMAX Forum certified.

The G-Series consists of some of the most powerful laptops in the world. Equipped with Intel's new generation quad core CPU platform, these notebooks are the same used to vanquish foes by the world-renowned gaming team Fnatic. MSI's GT640 and GT740 come with the new generation Intel® Core™ i7 quad core processor, while the GX640 and GX740 are equipped with Intel's latest Intel® Core™ i5 duo core processor. They all boast advanced high performance 3D discrete graphic cards and high-end soft/hardware to give serious gamers the power they crave.

MSI will also display seven new Wind Top All-in-one computers ranging in size from 19 to 24 inch models. The 24-inch AE2400, comes with the latest multi-point touch control screen and Windows 7 as well as world-class cinema sound. MSI will have a high quality display area onsite to show off the superb

MSI will unveil several new digital concept products at CES 2010 including an HD e-book, dual display touch screen e-book, wireless battery charger for notebooks, and a 3D notebook. The 10-inch dual display touch screen e-book features an exclusive virtual keyboard with improved tactile impressions through its intuitive counter-force reaction function. The Intel Menlow platform, Windows 7, high-speed WLAN, and SSD storage combine to smash through previous e-book, notebook, PDA, and other handheld device limitations.

MSI's new 3D notebook is a 15.6" model with a 120Hz 3D HD display. Its GPU and 120Hz 3D panel work together to create a simultaneous presentation of 60 images for both the left and right eye. With NVIDIA® 3D Vision™ glasses, lifelike 3D images appear and create the perfect integration of the real and virtual worlds!

The new Wireless notebook battery charger turns the traditional power supply concept on its head. Users simply set a notebook on the wireless battery charging pad (a power cord is not required) to automatically charge the notebook's battery.