Motorola XOOM Spotted At Sam's Club And Costco, Who Wins On Price?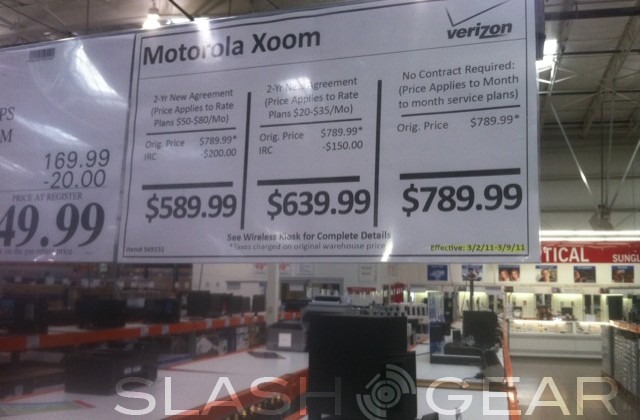 The flood of iPad 2 news has past with yesterday's announcement, so let's take a look at its rival, the Motorola XOOM. The promising dual-core tablet running Android 3.0 Honeycomb was launched last week on February 24th and today we spotted the device at Costco and possibly Sam's Club. The pricing is inline with predictions but it looks like one discount warehouse may have the other beat by just a tad.
We took some snapshots of the Motorola XOOM at Costco showing the device on sale starting from $589.99 with a 2-year agreement on a $50-80 per month rate plan. Stepping down to a 2-year agreement on a $20-35 per month rate plan bumps up the pricing to $639.99. And with no contract signing, just the device itself is priced at $789.99. With this price range, they're not exactly flying off the shelves as we can see in the image below. Either no one's got word yet that Costco's got the devices, or they're just really well stocked on the cardboard placeholders.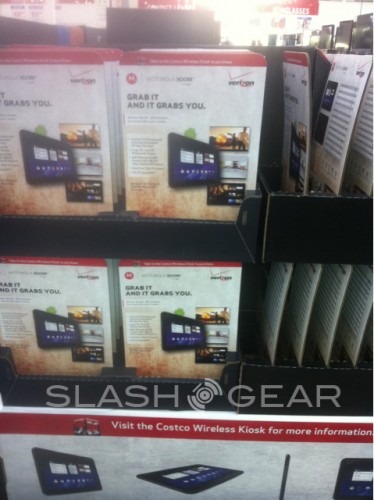 According to Android Community and Droid Life, the Motorola XOOM should be at Sams Club as well with a starting price of $539. However, the snapshot of the price sheet that was obtained shows no information on what rate plans this price point entails. Also unclear for both locations is whether the model stocked is the Wi-Fi only or the 3G/4G version.