Motorola MOTOLUXE Preview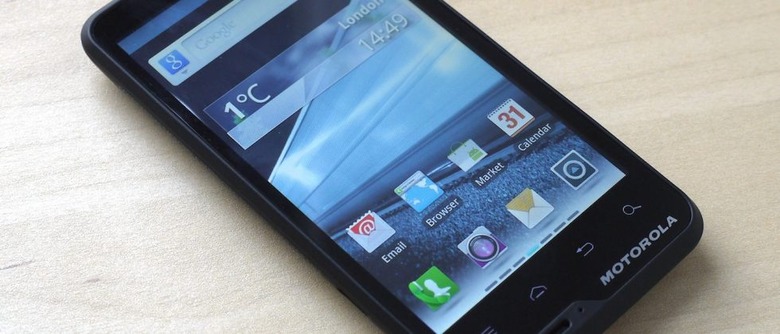 Motorola has been pushing the high-end in Android phones for a while now, coaxing early-adopters out of their shells with LTE marvels like the DROID RAZR and the DROID 4, but the MOTOLUXE shows it hasn't forgotten the entry-level market. Solid and middle-of-the-road is usually the route for affordable devices; still, Motorola hasn't been able to resist slapping a great big lamp on the front, just for some eye-candy. Is this the best budget Android phone around, or just a wannabe RAZR with a bad case of bloat? Check out our preview after the cut.
Hardware
For a "budget" minded device, the MOTOLUXE actually has some of the most successful industrial design we've seen from Motorola for a while now. There's none of the clamorous title-chasing of the look-how-thin-I-am DROID RAZR, just a soft-touch monoblock which feels sturdy and creak-free. It's a nice compromise on scale, too – the 4-inch display makes for a phone good for web-browsing and multimedia playback, but not so large as to monopolize your hand, pocket or purse. It's important to note that this is a pre-final device – hence the preview, rather than a full review.
Motorola MOTOLUXE hands-on:
[vms dcd755232baa04c23169]
Motorola's budget has some obvious consequences, though; the screen is 854 x 480 resolution, rather than qHD or 720p, and the processor is an 800MHz Qualcomm MSM7227A paired with just 512MB of RAM and 1GB of ROM. Still, you get an 8-megapixel camera with autofocus and an LED flash, though only a VGA resolution front camera, while the HSDPA radio is limited to 7.2Mbps download rates (network depending) rather than faster HSPA+ speeds.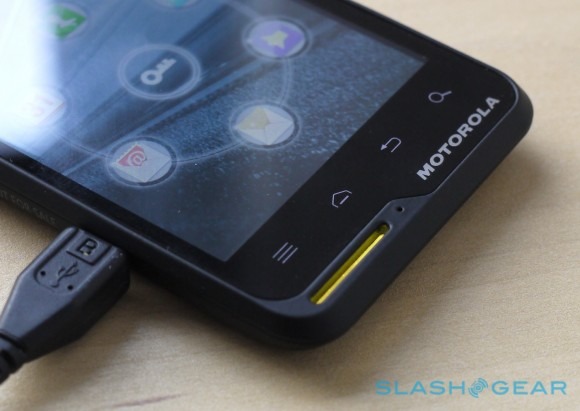 There's also WiFi b/g/n, FM radio, Bluetooth 3.0 and GPS, though no NFC; a 3.5mm headphone socket and microUSB 2.0 port, through no MHL HDMI output. The most striking element of the 117.7 x 60.5 x 9.85 mm handset is the broad LED indicator strip in the lower left corner of the fascia – with a cutaway strip underneath – that lights up according to charging status, new alerts and when the battery is running low. It looks great, though it can be distracting if you're the sort of person who charges their phone overnight with it on the nightstand.
Software
Motorola loads the MOTOLUXE with Android 2.3.7 complete with some Moto Switch 2.0 customizations, though since this is a non-final device we won't be benchmarking it or passing any lasting judgements. We'd obviously prefer to see Ice Cream Sandwich in play, and Motorola's tweaked iconography is somewhat underwhelming. Perhaps we're just reluctant to change, but the graphics aren't as instantly obvious as Android's native icon set, leading to hunting when you're chasing down a specific app.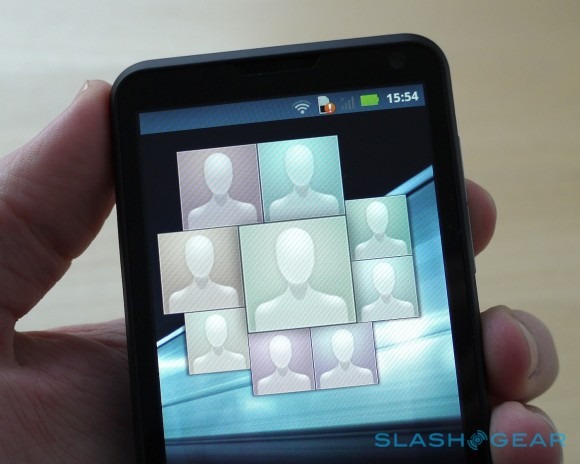 Stand-out elements in Moto Switch 2.0 are the lockscreen shortcuts, which takes a leaf out of HTC Sense's book and offers quick access to apps from the lockscreen itself. Motorola outplays HTC by offering six shortcuts rather than its rival's four, though. Meanwhile there are favorite-apps and favorite-contacts cluster widgets on the seven-pane homescreen, which can either display your most  frequently run/contacted software and people automatically, or show those you manually pin to the group. Unfortunately there's no way to have a halfway house of both, pinning some shortcuts while allowing the others to dynamically change.
Camera
8-megapixels is healthy for a low-cost device, though there's obviously more to good photography than raw pixel count. The MOTOLUXE does a reasonable job, though it's very much dependent on getting sufficient natural light. Colors tend to be muted and there's noticeable noise around indoor shots. Remember, though, that this could change with final software.
Phone and Battery
In-call audio was solid and the MOTOLUXE's size made it comfortable to hold for extended conversations. Motorola rates the battery life of the smartphone at up to 6.5 hours of 2G talktime (4.5hrs 3G) and 400 hours of 2G standby (450 hours 3G); we found the MOTOLUXE was easily able to last a day of average use.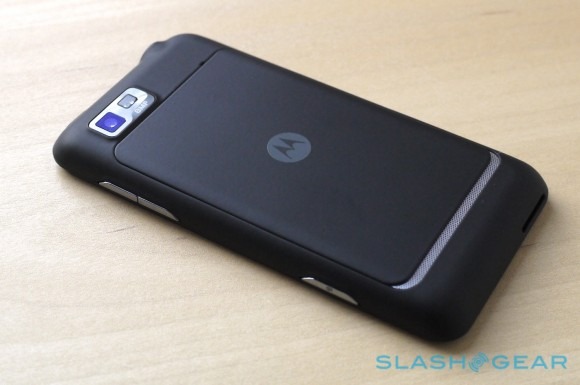 Wrap-Up
Motorola has a reasonably wide remit for the MOTOLUXE, targeting it at developing markets in addition to low-cost contract and pre-pay customers elsewhere. If you're buying a phone with an agreement – and thus a subsidy – there's a solid argument to be made that upfront cost is relatively insignificant: we'd always recommend going for the best device around, even if it's more expensive, since the difference in what you pay on day one is marginal in the context of the average two-year agreement.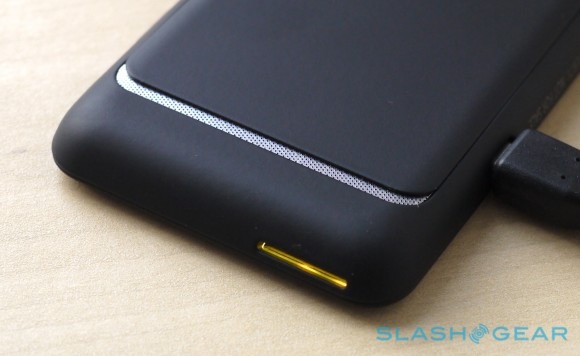 Still, for pre-pay customers or those wanting an affordable SIM-free device, there's a lot to like about the MOTOLUXE. The screen offers a solid compromise over size and usability, and the build construction – though not a true "rugged" phone – is high enough to make the smartphone feel surprisingly premium. The camera is only passable and Moto Switch 2.0 is underwhelming, but the sticker price reflects that. Compared to other budget options on the market, the MOTOLUXE has plenty in its favor.
Thanks to Clove for the loan of the MOTOLUXE unit. The handset is available to order now, priced at £215 plus tax.