Motorola Droid Review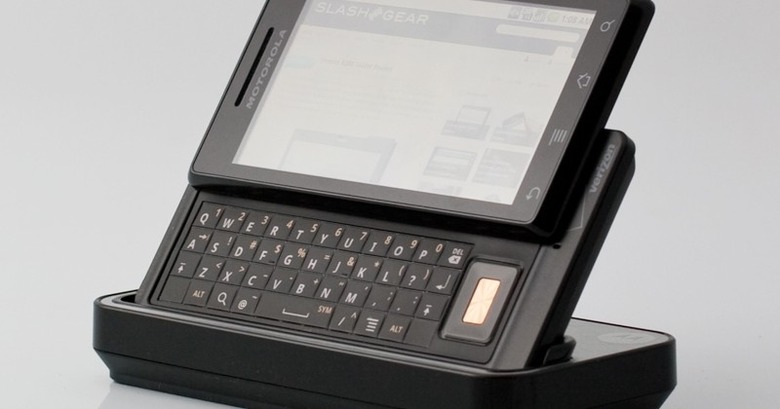 If you can predict a device's success by site stats then we'd say the Verizon DROID by Motorola is going to be a hit. A week after launch and the DROID is still topping the charts for reader interest, and you've been peppering us with questions and comments about the Android 2.0 device. Set to hit shelves this coming Friday, the Verizon DROID is already being heralded as the device that will change Motorola's fortunes; is that hyperbole, or is the DROID really that good? We've been putting the smartphone through its paces, so read on for the full SlashGear review.
Google, so the rumors go, had quite a hand in the design and development of the DROID, and whether or not that's true there's no doubt that many are looking at the smartphone as the de facto flagship of the Android range. The physical design is certainly distinctive, eschewing curves for angular edges that leave the DROID distinctive. We initially compared it to Motorola's legendary RAZR, and the DROID's construction does certainly have a similar theme.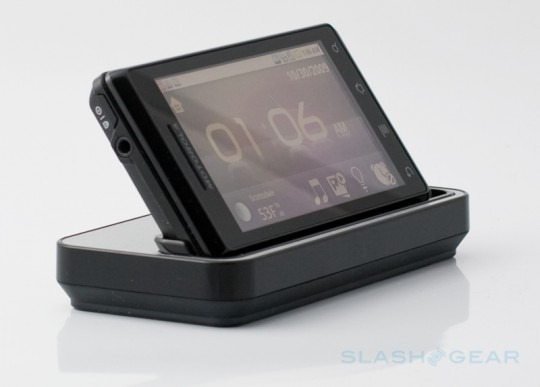 Pride of place is the DROID's display, a 3.7-inch 854 x 480 capacitive touchscreen that's incredibly bright and crisp. We're used to AMOLED panels taking the top spots when it comes to display technology, but Motorola's choice of LCD is particularly impressive. Switching back to an iPhone 3GS really shows the difference in screen resolution; thanks to sheer size and pixel density, it's possible to read some PDF or Word files full page without any zooming.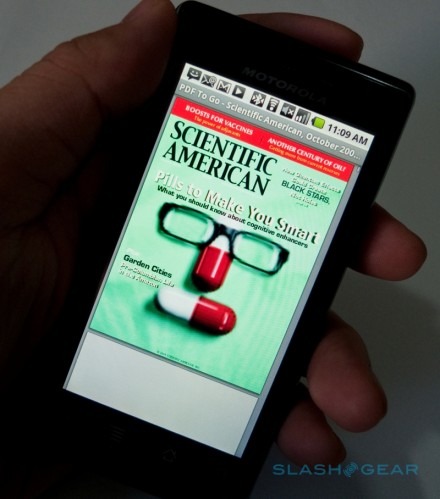 As for the touchscreen, it has the lightness of touch that we're used to from capacitive panels but – in the US DROID at least – lacks any sort of multitouch support. GSM versions of the handset for Europe will apparently get a multitouch browser, but Motorola and Verizon have held off from adding such functionality to the US CDMA DROID. We're impressed with the screen's toughness, though; we've left it in front and back pockets and there's not a single visible scratch.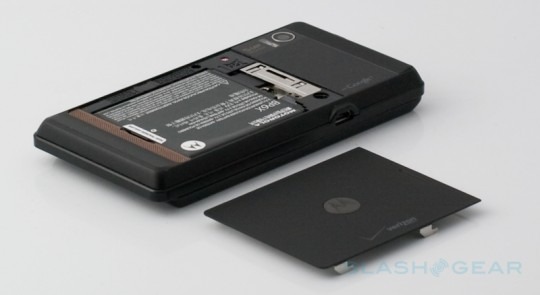 After the display, the other most noticeable hardware feature is the QWERTY keyboard. This slides out with a solid click, though lacks the spring-loading we've seen on other handsets. Since the DROID is so thin – 2.4 x 4.6 x 0.5 inches, so just a little thicker than the iPhone 3GS – and Motorola have given the smartphone a removable 1,400mAh Li-Ion battery, there's very little room for the keys themselves. The 'board looks flat and, in use, the tactile feedback matches that first impression. Keys are closely packed together with little delineation, and pressing them reveals a lack of travel that leaves us looking to Motorola's own CLIQ and the Samsung Moment for the best Android hardware keyboards.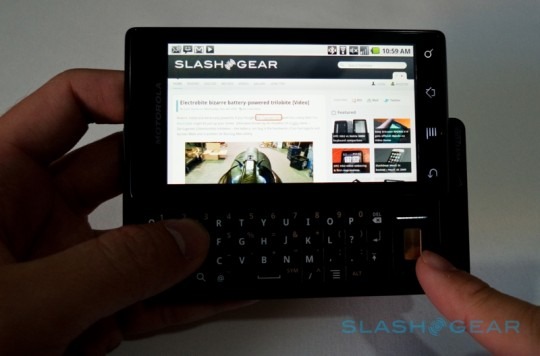 In a hardware design so considered, there are also some baffling layout decisions, not least the positioning of the D-pad. Seldom used – in fact both Sony Ericsson and Acer have dropped the hardware directional control from their own Android devices – it shares the same poor tactile feedback as the QWERTY but also forces the keyboard across to the left. That leaves you constantly reaching across it with your right thumb. Less annoying, but no less puzzling, are the two blank keys in the bottom left and right corners of the 'board; considering Motorola were sensible enough to fit in shift and alt buttons on both sides, we can't help but wonder why they didn't use these blanks for shortcuts or the like.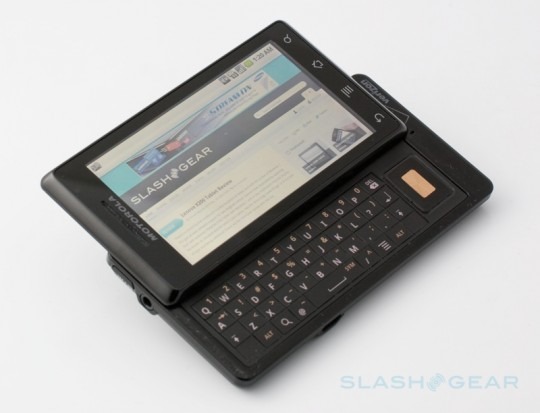 Of course, if the hardware keyboard fails to appeal there's always the on-screen QWERTY, which is available in both portrait and landscape modes (the DROID has an accelerometer to flip between the two, and the display automatically rotates when the hardware 'board is extended). The large display means the on-screen buttons are large and easy to hit, which goes some way to making up for the fact that Android 2.0's native auto-correct intelligence isn't as smart as you'll find on HTC's Android devices.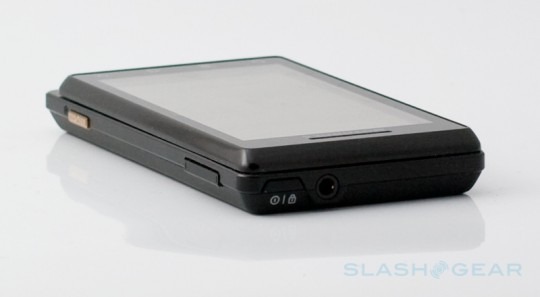 The only other hardware controls on the DROID are a slightly-too-rigid power/lock button recessed into the top edge, the volume controls on the side and a camera shortcut; the back, search, menu and home keys under the display are all touch-sensitive. In contrast to the overly firm power key, the volume controls proved all too easy to press while extending the keyboard; on a few occasions we missed calls having inadvertently set the DROID to silent.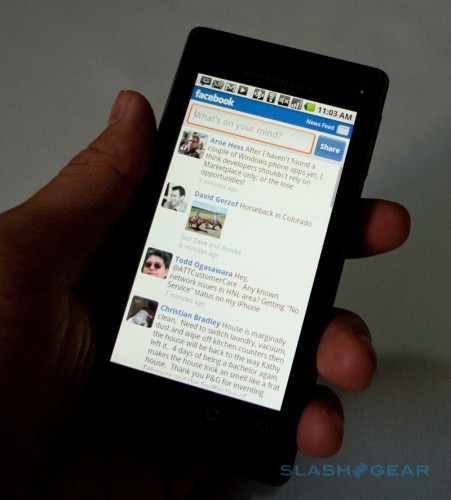 Unlike the Motorola CLIQ, the DROID gets none of the company's social networking enhancements; there's no MOTOBLUR with its homepage feed of "happenings" from Twitter, Facebook and MySpace. The general excuse is that the DROID has a more business focus than the CLIQ, though we reckon a delay in getting MOTOBLUR ready for Android 2.0 is likely another good reason. The DROID is, of course, the first handset to ship with Android 2.0, and thus the first chance we've had to properly play with the new UI. Although there are numerous changes, the overall experience is very similar to previous iterations and there are still gaps in functionality. Google have tightened up the animations and visual consistency of Android, though having had seven homescreen panes and numerous advanced desktop widgets with HTC Sense it seems backward to have the regular three panes and normal shortcuts on the DROID (even Moto's own CLIQ has five homescreen panes).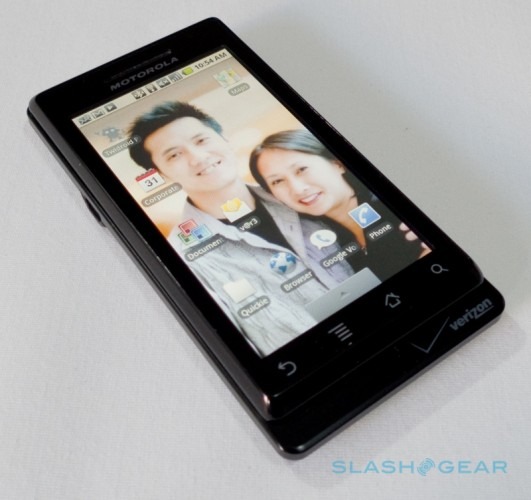 What has been improved, though, is power management, and you're now able to shut down individual processes rather than relying on Android to natively do so. Considering this has been a bug-bear for all Android handsets to-date, it's a very welcome tweak. As we've shown in our previous DROID highlights article, there's now granular tracking of power consumption, with bars indicating which aspects of use – system processes, voice calls, WiFi, etc – made the biggest demands on the battery. Motorola rate the DROID for up to 6.4hrs talkative or 11.25 days standby, and in fact runtimes have been a real source of surprise for us. Even with Exchange push, Bluetooth and WiFi turned on we saw more than a full day's use out of the DROID, and while you'll probably end up charging it nightly there's certainly the potential here to push through a full day and into the next if you're stuck away from a power point. Recharging is via the microUSB port, and we're glad to see the generic connector; Verizon have also confirmed that as of early 2010 you'll be able to add data tethering to your DROID contract, so that same microUSB connector will be used to hook up a notebook for mobile internet access.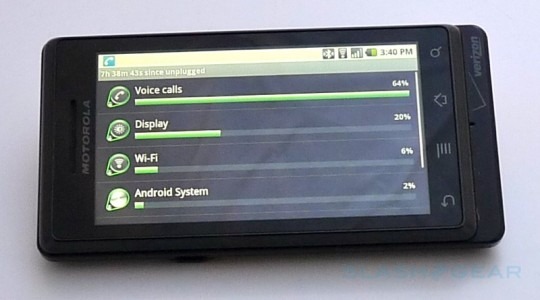 Android 2.0 performance is slick and impressive, thanks no doubt to the DROID's 600MHz Cortex A8 processor. Most screen transitions are slick and lag-free, though the pull-down status pane and drag-up launcher menu both, strangely, show a little judder. Considering this appears to be the case on every Android device we've used, we're leaning toward thinking this is an OS issue rather than a specific handset problem. Internet access is via the excellent Webkit-based Android browser, now updated to support HTML5 and double-tap to zoom, the latter going some way to making up for the absence of multitouch. There's no Flash Lite support for in-page video, but we're told that's on the roadmap.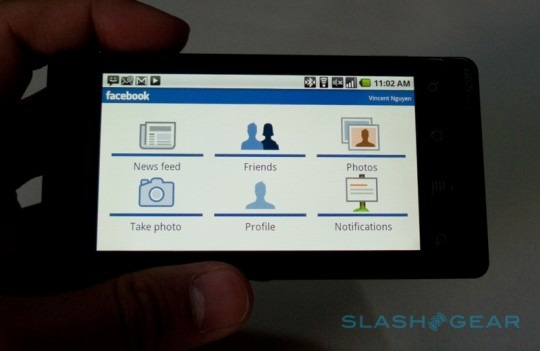 While MOTOBLUR may not be present, that doesn't mean social networking is completely absent from the DROID. Android 2.0 integrates Facebook, for instance, into the contacts, pulling in any email or number information together with their latest status update and profile photo. The new OS also natively supports Microsoft Exchange for email, calendar and contacts, but there's a split in consistency in terms of what's kept separate and what's merged. Exchange email and contacts are merged in with the rest – individual address book entries are combined rather than causing duplicates, and tapping on a person's photo pulls up a floating Quick Contact bar with shortcuts for email, SMS or whatever methods are available – but the Exchange calendar is separate from the personal calendar. Meanwhile Gmail is corralled into its own app, separate from Exchange, POP and IMAP accounts.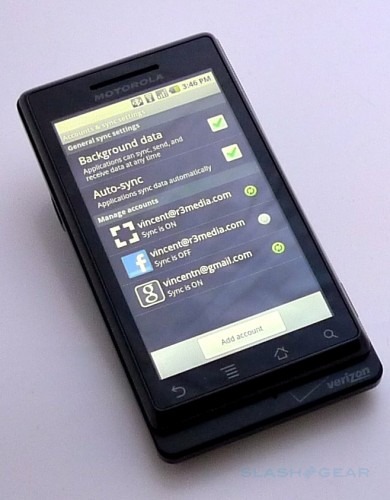 Unlike HTC Sense, there's no Twitter integration, though that could come in the future thanks to Google's so-called sync adapters. New to Android 2.0, they apparently make it reasonably easy for services like the short messaging network to integrate with the smartphone's core apps. Having played with the comprehensive Facebook client on the iPhone, we're disappointed with how limited the Android app is right now; anything beyond the most basic of features pushes you into the browser and to the site's mobile pages.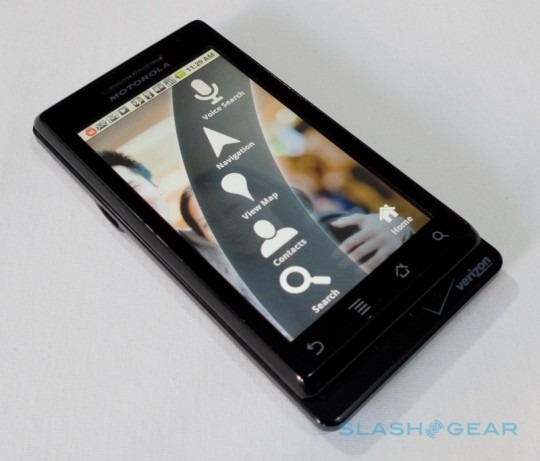 Google have also thrown in Universal Search, though they've done it in an odd, two-stage way. Tapping the dedicated button (or holding it down to call up voice-search) allows you to make internet, SMS/MMS, contact and media searches; however if you want to search through your emails you actually have to be in the inbox first. There's also no server-side searching, which is frustrating when both the iPhone and Windows Mobile offer it.
One of the most discussed features of Android 2.0 is Google Maps Navigation, currently in beta in the US (those who pick up the non-US version of the DROID, when it launches, will get Motorola's own MOTONAV GPS app). This adds voice prompts, turn-by-turn navigation, text-to-speech and voice-control to Google Maps with no monthly subscription or fees beyond your data package. As usual, Google Maps offers various mapping types, from the basic layout to satellite and traffic overlays, and there's a digital compass for use with Street View.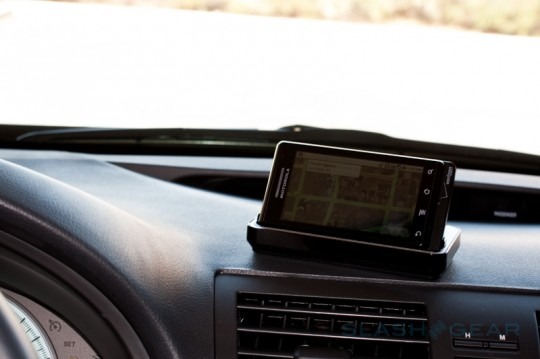 It's a fantastic addition and is already shaking up the standalone PND and navigation app market. There are rough edges, certainly – the voice recognition is only as accurate as most other voice control systems out there, by which we mean for every surprise success at a tricky address there's a blundering mess-up over something straightforward – and you'll need data access in order to download the mapping, but so far we're seeing plenty to like.
The remaining changes in Android 2.0 are less obvious, and while that means there's sometimes a nice surprise to be found – Object Push and Phone Book Access profiles freshly added to the platform's Bluetooth support, for instance – it also means some elements are left wanting. The Android Market continues to grow in content, much of which is free, and thanks to the UI update in Android 1.6 is an easier, more pleasant place to navigate and download from. However, Android 2.0 still has the app limitation whereby software can only be loaded into the phone's memory: the DROID has 512MB of ROM (and 256MB of RAM), and while Motorola bundle a (sluggish) 16GB class 2 microSD card in the box, it's only of use for media files rather than software.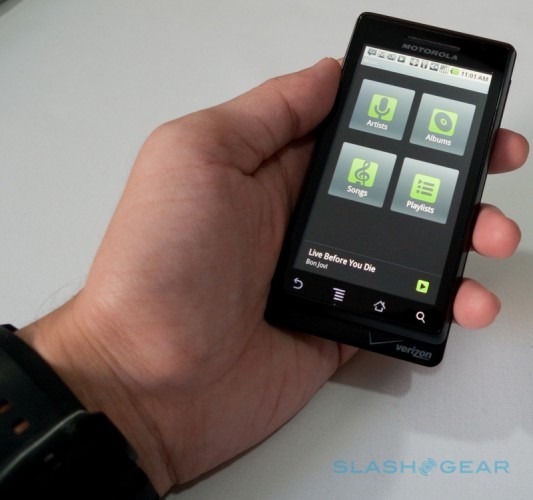 Speaking of media, Android's PMP functionality is strongly in need of an overhaul, both in terms of the onboard applications and the way you manage your audio, video and picture content. Aside from being relatively ugly compared to other aspects of the OS' design, the media player lacks the flexibility you'll find on an iPhone. Managing on-device media and transferring content between your computer and the DROID still requires either drag-and-drop over a USB connection (which mounts the DROID and its memory card as an external drive) or physically taking out the microSD card and using a standalone card reader. We can't imagine many people opting for the latter, however, as access to the memory card demands you not only remove the battery cover but the battery itself. It was enough trouble getting the battery cover to stay on anyway; we had to bend the four metal prongs outward slightly in order to keep it fixed in place. Happily, there's a standard 3.5mm headphone socket, though Motorola don't actually include a wired hands-free kit. Having tried the bundled headphones of more cellphones than we could count, that's no great issue when it comes to quality sound – just about any aftermarket pair will outclass what's usually thrown in free – but some buyers may resent it all the same.
Where Apple offer iTunes (and Palm attempt to piggy-back on it), Android still lacks a sync-software client for managing applications, music, playlists, videos and images. The Amazon MP3 store is preloaded for on-device downloads – supporting both WiFi and mobile connections, though obviously the former is usually faster – but you're left to manage your own folder structure. It's a reminder that the Android ecosystem is still in its infancy; while Verizon's "iDon't" adverts may have pulled the iPhone up on its non-removable battery and lack of multitasking, the DROID has shortcomings of its own.
Although on paper the DROID's camera should outclass that of the iPhone 3GS – with its 5-megapixels and LED flash, versus the Apple smartphone's 3.2-megapixels – we've been consistently disappointed with the Motorola's stills. The autofocus is sluggish and has difficulty locking onto subjects, and while Google have added extra control over elements like white balance, flash and focal length, the UI is less than intuitive. Our still shots were often out of focus, or tinged with unusual color fringing, and the LED flash was bright but – like we've found with other such flash systems – has a relatively narrow sweet-spot between over- and under-saturating the subject.
Sample shot taken with Droid's 5MP camera: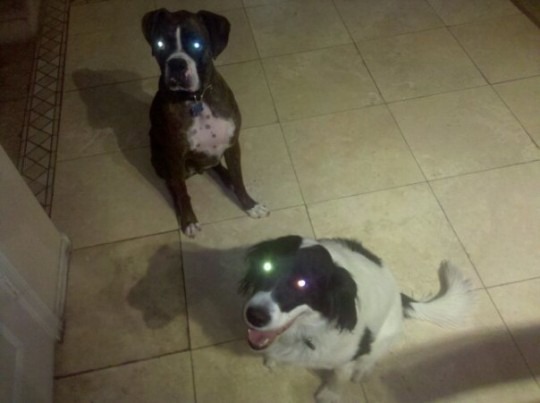 Video quality, meanwhile, is far more successful. Clips are recorded at up to 720 x 480 24fps and can be up to 30 minutes in length, though there's a dedicated MMS mode which records up to 30 second clips of lower resolution suitable for media-messaging. There's a noticeable absence of image stabilization, and it takes a steady hand to avoid motion judder, but there's relatively low amounts of blurring and little in the way of pixilation.
[vms f3dc4f3cf45f02c61c0c]
Call quality has been a pleasant surprise coming from the iPhone 3GS, and we've had nearly a 100-percent success ratio avoiding dropped calls. Verizon's network has offered speedy EVDO Rev.A downloads and consistent coverage, and sound quality from both the earpiece and the speakerphone were top notch. You need to turn the DROID screen-down to get the very best out of the speakers – which are mounted behind the narrow gold mesh strip along the back of the smartphone – but once you do that there's volume to spare.
Our criticism is in the sole inclusion of CDMA radios, when the DROID would be an obvious candidate for a Verizon World Phone. Instead there's no way to use the handset on a GSM network, not an issue within the US but making it useless – beyond WiFi access – when abroad. Motorola already provide Verizon with at least one World Phone, so we're disappointed they decided not to – or couldn't fit in – the necessary hardware with the DROID.
Verizon will be offering two accessories for the Motorola DROID on launch day, a desktop docking station and an in-car mount. The former holds the DROID in landscape orientation and – thanks to a carefully placed magnet – automatically triggers a desktop UI with prominent clock, date, weather widget and access to media playback and an alarm. Around the back there's a single microUSB port for recharging/syncing, though we wish Motorola had either fitted a second battery slot or even built a battery into the dock itself, along with a speaker. That way the dock would've made for a handy travel companion, propping the DROID up at a video-friendly angle while also avoiding running down its onboard battery.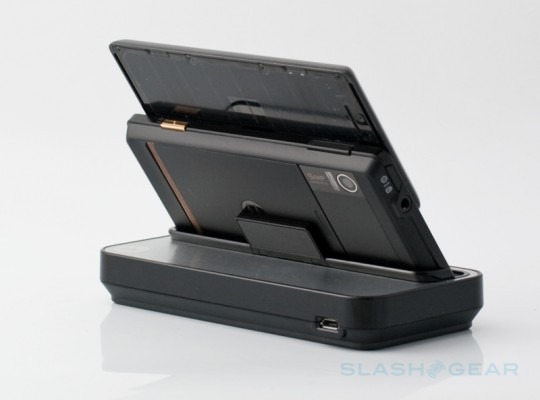 The in-car mount, meanwhile, uses the same sort of magnet trick to kick the DROID into navigation UI with chunky, finger-friendly buttons ideal for using while driving. There's also easier access to voice-command, and unlike the desktop dock there isn't a microUSB port to charge the DROID. Unlike, say, TomTom's iPhone car kit, however, there's no GPS receiver or speakerphone, though thanks to the DROID's excellent onboard speakerphone the latter would be a wasted effort. Each accessory is expected to come in at $30.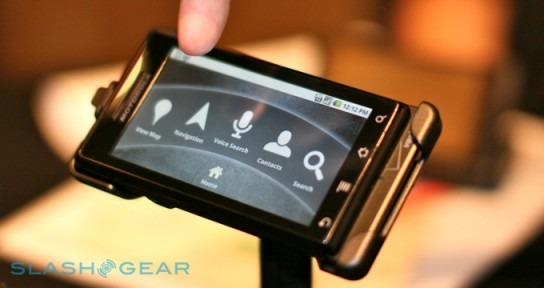 All in all, the Verizon DROID by Motorola sets the bar for all new Android devices and is arguably the best Android device to date. The natural comparison is always going to be the iPhone 3GS, and while the DROID lacks the Apple handset's finesse and polish, it's only a few steps behind. If you're not entirely content with your iPhone 3GS and AT&T's service, we'd suggest giving the DROID a try; meanwhile, if you're looking to dump your current handset or carrier, the DROID should definitely be on your shortlist. No one device will tick every box – Motorola's camera is shoddy, and the DROID's keyboard is nowhere near perfect – but many of the flaws we've identified could be addressed in Android 2.1 whenever that arrives. Verizon's first Android handset is one of the most compelling smartphones on the market, and at an iPhone 3GS-matching $199 we reckon it'll be a runaway success.
Verizon Droid video demoAnother sample video of Droid's video quality
Video walkthrough of Droid's battery usage