Top Motorcycle Helmets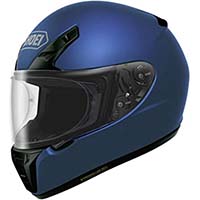 Shoei RF-SR
Pros
Wide range of size and color options
DOT- and Snell M2015-certified
Weighs 3.66 pounds
Intermediate oval shape
Cons
Limited features
Relatively expensive
The Shoei RF-SR's shell is Department of Transportation-approved to ensure legality in states that require motorcyclists to wear a helmet. However, it goes beyond this with an additional Snell M2015 safety rating. It also features an emergency quick-release system in case medical personnel need to remove your helmet quickly after a crash.
Shoei offers this helmet in a variety of color options, and you can get it in sizes ranging from XS to XXL. These helmets also include a five-year warranty for added peace of mind.
As of publishing, this helmet costs $419.99 on Amazon.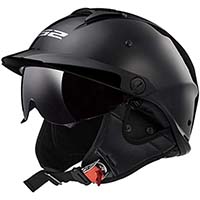 LS2 Helmets Rebellion
Pros
Low cost
Drop-down sunscreen
DOT-approved
Intermediate oval shape
Cons
Limited face protection
Only has a 2-year warranty
If you prefer the feel of a half helmet and don't mind trading off safety for comfort, the LS2 Rebellion might be perfect for your next ride. It has an adjustable sunscreen and a quick-release tab on the chin strap to make removal easy. The hypoallergenic liner is also removable and machine-washable.
You can even choose from seven color options and sizes ranging from XS to XXL.
As of publishing, it costs between $119.95 and $129.99 on Amazon.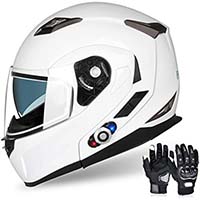 FreedConn BM2-S
Pros
Bluetooth-equipped
Modular design
Emergency cheek pad release
DOT-approved
Cons
Few sizing options
Weighs 4.05 pounds
The FreedConn BM2-S is a Bluetooth-equipped helmet that can stream music, GPS voice prompts, phone calls and communications with other riders. It's also a reasonable value in its class.
However, it's on the heavy side, and some of the product info is confusing, so be sure to double-check that you're getting what you wanted. Only three sizes are available, but there are five color options to choose from.
As of publishing, the BM2-S costs $194.99 on Amazon.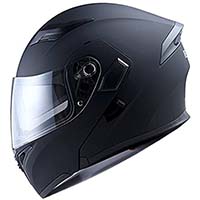 1Storm Modular Full Face
Pros
Very low cost
Modular design
Multitude of color options
DOT-approved
Cons
Undisclosed head shape
Limited sizing options
If you're on an extremely tight budget, this helmet is a good option. It has a modular design that lets you raise the front of the helmet out of the way, and the padding is removable and washable.
There are a few other features included, like a quick-release buckle, but information on this helmet is somewhat limited. Also, while there are 16 color options, there aren't options for XS or XXL riders.
As of publishing, it costs between $9.95 and $74.95 on Amazon.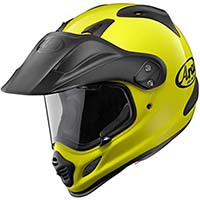 Arai XD4
Pros
Twin-Cam Shield Pivot System
Weighs 3.66 pounds
DOT- and Snell M2020-approved
Intermediate oval shape
Cons
Expensive
Lack of ventilation in the top
If cost is not a factor, the Arai XD4 is an excellent option. This dual-sport/ADV motorcycle helmet provides a wide viewing angle, and it has good airflow thanks to its exhaust ports and large side cowl vents. Additionally, the interior is removable, and there's an emergency cheek pad release system so you can get the helmet off quickly when needed.
You can choose from five colors, including a high-visibility yellow option, and a range of sizes from XS to XL.
As of publishing, the XD4 costs $609.95 to $629.95 on Amazon.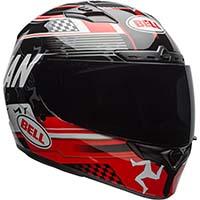 Bell Qualifier DLX
Pros
Low cost
Weighs 3.34 pounds
DOT- and ECE-approved
Intermediate oval shape
Cons
Limited Amazon stock
Limited color options
If you want a low-budget helmet from a better-known company, the Bell Qualifier DLX is a good option. This full-face motorcycle helmet has a polycarbonate/ABS shell and a washable, removable interior to keep odors at bay. The Velocity Flow Ventilation system features FlowAdjust to ensure you have adequate air circulation. Also, with the included wind collar, you should notice less road and wind noise during your ride.
This helmet comes in a wide range of sizes and colors, but only a few are available on Amazon at the time of publication, so it's worth checking what's in stock before you decide on this helmet.
As of publishing, it costs $145.95 to $219.94 on Amazon.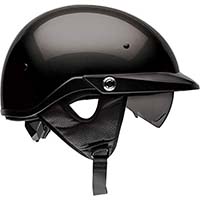 Bell Pit Boss
Pros
Removable neck curtain
DOT-approved
Weighs 2.44 pounds
Intermediate oval shape
Cons
Color options are mostly black
Limited face protection
On the other hand, if you want a half-helmet design from a more recognizable brand, the Bell Pit Boss may be the right choice. It comes with an internal sunshade to protect your eyes, and if the weather turns chilly, you can use the removable neck curtain to stay warm.
Lots of sizes are available, and the Speed Dial adjustable fit system can help you dial in your fitment. Most of the helmet options are variations of black, but you can still choose some unique designs.
As of publishing, this helmet costs between $59.95 and $184.84 on Amazon.
How We Found the Best Motorcycle Helmets
We started by looking at the customer reviews for top brands. From there, we scored the helmets based on their weights, prices, features and styles, providing you with a selection of options to choose from.
Compare Our Picks for Top Motorcycle Helmets
Below, compare our picks on costs and reviews.
| Brand Name | Model | Star Rating* | Cost* |
| --- | --- | --- | --- |
| Shoei | RF-SR | 4.8 | $419.99 |
| LS2 Helmets | Rebellion | 4.6 | $119.95 – $129.99 |
| FreedConn | BM2-S | 4.4 | $194.99 |
| 1Storm | Modular Full Face | 4.5 | $9.95 – $74.95 |
| Arai | XD4 | 4.7 | $609.95 – $629.95 |
| Bell | Qualifier DLX | 4.5 | $145.95 – $219.94 |
| Bell | Pit Boss | 4.5 | $59.95 – $184.84 |
*On Amazon, as of publishing date.
What to Know About Shopping for Motorcycle Helmets Online
When choosing a motorcycle helmet online, here are some things to keep in mind:
Price: Buy the best helmet you can afford. Motorcycle riding is dangerous, but a quality helmet can make it significantly safer. According to the Centers for Disease Control and Prevention (CDC), helmets reduce the risk of death by 37%, and they reduce the risk of head injury by 69%.
Certification: The Department of Transportation tests motorcycle helmets to ensure safety. The helmet you choose should at least have a DOT sticker on it, signifying that it has been certified for on-road use. However, there are other, stricter certifications that a helmet can earn. Helmets that meet Snell, ECE or FIM standards have proven that they can withstand more stringent testing.
Size: To be effective, your helmet must fit snugly. However, you also want it to be comfortable. If you are unsure what size to buy, measure your head and consult the helmet's sizing chart. If you're between two sizes, contact the manufacturer and read reviews for more guidance.
Visibility: You need to be able to see a wide field of view while wearing your helmet, and you need to be able to see through your face shield or goggles both day and night.
Ventilation: While ventilation doesn't affect your safety, it's critical for an enjoyable ride. If you don't get enough airflow, you may end up sweaty by the time you reach your destination, especially during the summer. Look for a helmet with lots of vents or a raiseable face shield if you're trying to get more ventilation.
Style: Practical factors are always more important than what the helmet looks like, but you're more likely to wear a helmet that you think looks good. If all else is equal, buy a helmet that matches your sense of style.
Bottom Line: What's the Best Motorcycle Helmet for Me?
It's not difficult to find the best motorcycle helmet if you know what style and features you are looking for. There are several brands that rise above the competition to provide everything you need for a better ride. To recap, here are our top picks:
Shoei RF-SR
LS2 Helmets Rebellion
FreedConn BM2-S
1Storm Modular Full Face
Arai XD4
Bell Qualifier DLX
Bell Pit Boss
Motorcycle Helmet FAQ
Our picks range from about $60 to $630, but motorcycle helmets have an even wider price range. You can usually find a quality, ECE-certified helmet for about $200, but spending more money will get you more creature comforts, like ventilation and noise reduction.
Yes, motorcycles are generally designed to fit a certain size of head, no matter the wearer's gender.
If you want to stand out, consider choosing a white or brightly colored motorcycle helmet.
Most helmets feature stickers showing which safety standards they meet. To be considered safe, a helmet should at least have a DOT sticker on it, and stickers for ECE, Snell or FIM certification are even better.
Yes, if your helmet is Bluetooth-capable and has speakers, you can connect your compatible smartphone and potentially listen to music, catch up on your favorite podcast or make hands-free calls.