Ministry of Sound tries again with PMP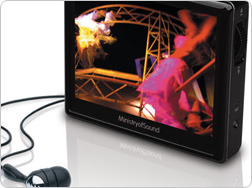 I've been scathing about Ministry of Sound DAPs in the past – and rightly so, they've churned out crap – but with the advent of their latest audio and video player I might have to change my tune.  The MOSMP100X10 (yes, that's a good name, well done guys) is pretty much a 3.5-inch QVGA screen with a moderate amount of casing around it and a SD slot, capable of playing mp3, mp4, WMA and WMV files.
At just 0.6-inches thick it's portable, but the slender depth is mainly because it doesn't fit a hard-drive inside like so many competing products do.  A 1GB SD card is supplied, which is pretty poor, although they're claiming it'll hold six hour of audio or four of video.  Line-in ports for audio and video round out the package.
At £150 ($292), am I going to recommend it?  No.
Ministry of Sound joins media player fray[Electronista]