Microsoft Vista Ultimate PRODUCT (RED) Edition Coming Dec 15th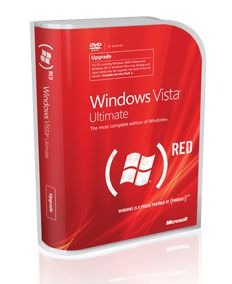 We may receive a commission on purchases made from links.
Microsoft will be widely selling the Windows Vista PRODUCT (RED) edition, debuted on Dell PCs, as of December 15th.  The package consists of several new wallpapers, a screensaver, two sidebar gadgets and a Dreamscene, and for every sale Microsoft will make a donation to the PRODUCT (RED) fund. 
PRODUCT (RED) is a global fund raising money for developing an AIDS vaccine together with supporting those with the disease with retroviral medications.  It's not entirely clear how much out of the purchase price Microsoft are donating.
Amazon currently have the full Vista PRODUCT (RED) edition up for pre-order, for $219.95; that's $70 more than they're retailing the standard, Vista Utimate version.  However those eligible for Microsoft's US student-edition can get the PRODUCT (RED) upgrade for $64.95.
[via istartedsomething]