Microsoft reveals Chinese cloud startups in Azure scheme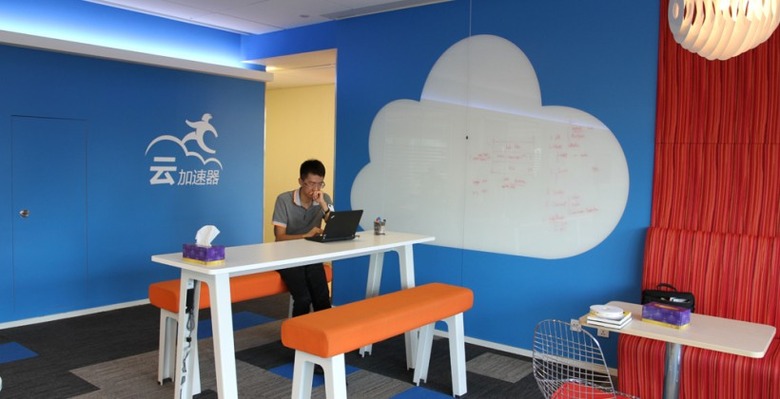 Microsoft has revealed its first batch of Chinese start-ups picked for its Accelerator for Windows Azure innovation program, as the company attempts to gain a foothold in the huge and potent market. Ten pre-"A" stage startups have been selected from a choice of 46 candidates, and will get Microsoft's stewardship for the next six months as well as two years of Azure cloud infrastructure access worth $60,000.
The program is aligned with existing government initiatives in China, which has selected cloud-computing as a strategic technological goal for the country" Microsoft says of the news. "China is obviously a huge market, so the opportunity for Microsoft to advance its cloud offering in conjunction with its efforts to help developing startups is significant."
Although Microsoft is obviously pushing Azure, it's also open to participants using open-source technology; six of the ten are apparently developing on open source platforms, in fact. The program will include mentorship from a group of technologists and entrepreneurs, including what Microsoft describes as "national thought leaders" along with six of the company's own IEEE fellows They'll also be provided with Microsoft software and development tools as part of the company's BizSpark Plus program.
Microsoft isn't alone in looking to China as the next big potential market for its products. The country is seen as a huge potential source of growth by Apple and others, though strict government controls mean foreign firms can struggle to successfully enter.
Inaugural Microsoft Accelerator for Windows Azure startups:
Snack Studio – A design driven team that creates high-quality Windows Phone applications, with every app the product of extensive research and analysis, geared to facilitate user enjoyment.
Microcare – An innovative company dedicated to providing quality service for mobile APP networks. Its pioneering service platform, Devs Desktop Real Device Testing Suite, provides testing services tailor-made for app developers.Fotoable – A mobile, multimedia company with special focus on photo-related applications in areas such as album management, special effects, and animation.Unidust – Wormhole is a leading "Siri"-like voice assistant for Android that enables users to have a conversation with their phone, makes phones easier to operate, and helps solve life problems.EachCloud – A webpage bookmark tool that puts the webpages that intrigue a user into a short summary, or a webclip. Users who have similar webclips and interests can find each other, and even become friends.BanBao – BanBao is a free Personalized Social Information Companion that puts your friends, news and tweets in one place so you can access them anywhere, anytime.OpenXLive – A mobile gaming social network platform that offers compelling features including leader board, achievements, multi-player and SNS integration.ApeHills – Creator of edu-tainment oriented apps and language learning apps for the Japanese market that is looking to expand into the Chinese market.FeiYan – An app that allows users to gift a custom meal via text message, a very welcomed idea in China's guanxi oriented culture.Atom – Creates social collaboration tools that help mid- to small-sized enterprises socialize and coordinate software.