Microsoft Office 2013 and 365 aim for cloud supremacy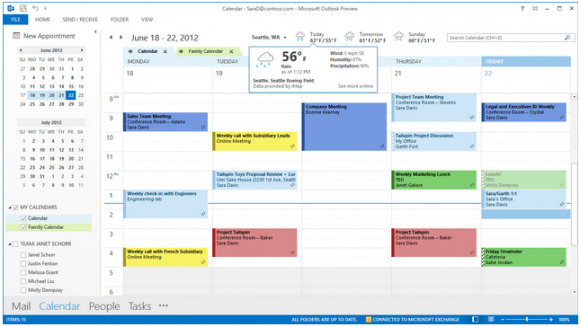 As both Google and Apple bring their big guns to the cloud market with Google Drive and iCloud, so too has Microsoft accepted the challenge with a cloud-connected Office 365 for both PCs and tablets. Utilizing their undeniably popular Office suite with Office 2013 as well as web-based versions of apps in Office 365, Microsoft has at once brought the Office back to the desktop (with desktop-based 365 applications) and connected it all back up to the cloud for any-machine usage. Users' Microsoft accounts are attached in the upper right-hand corner of each Office 365 application, all of it connected to SkyDrive for web-based storage.
Users will still be able to purchase the one-machine set of applications that is Office 2013 if they wish, that being a one-time cost with per-machine licenses for the software suite. Office 365 is the set of (many of the same) apps that will have a subscription fee that covers your usage of SkyDrive in everything you do on any computer. You can find out more about the subscription plans available soon from our post New Microsoft Office 365 announced with a bang.
This new set of software also includes a whole new look thats reflective of the Metro styling present in Windows 8. This software may very well be available for Apple computers running OS X, but no Office 2013 or 365 integration has yet been announced by Microsoft. The main idea here appears to be making Microsoft's Windows system a wholly next-level environment, with your Office suite being part of your everyday life as Google has been successful in implementing with services such as Gmail and Docs for several years.
It's not your computer anymore, it's whatever computer you happen to be at, connected to your account.
You'll find yourself able to download pre-release versions of all of the software (or most of it, anyway) mentioned above via Microsoft as they ramp up towards final release versions later this year. The site which you can sign up with for downloads is [Microsoft Office Download and Preview] – let us know if you like it!