Michael Bay's TMNT: Ninja Turtles with lips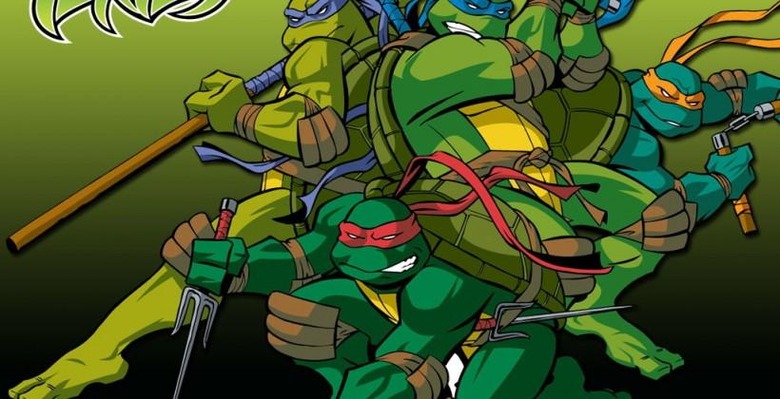 The adventure comedy reboot of the Teenage Mutant Ninja Turtles live-action movie series begins on the 8th of August, 2014, but the tiny glimpses and previews start right this minute. This movie is set to star actors like Megan Fox (April O'Niel), William Fichtner (Shredder), Will Arnet (Vernon), and Whoopi Goldeberg (Bernadette Thompson) in the secondary roles, but as our heroes, it's some slightly lesser-known actors behind the masks: Alan Ritchson, Noel Fisher, Jeremy Howard, and Pete Ploszek.
Master Splinter will be played by the bad-*** known as Danny Woodburn, but it's the turtles we'll be concentrating on today. What you're seeing here is the first couple of giant glimpses we're seeing of the boys themselves in movie poster form. This poster also suggests that the name of the film could be shortened up a bit – easy to imagine with our modern-day single- or double-word titles for films galore: Ninja Turtles. Update: Paramount has requested that we take down the leaked images.
The images grabbed by HollyScoop and appeared to have been photographed at an early viewing session for toys. Toymakers have – over the past few years – held these relatively secretive sessions to show off their action figures to the press before they're fully released. It would appear that the makers of the film series are OK with this revelation appearing where it'll end up – in the toy aisle.
UPDATE: ScreenCrush too, believes this poster photo to have been taken at a London Toy Fair earlier this month.
If you saw the photos, you'll also have noticed that the Turtles have lips. Human-looking lips.
Next we're seeing a selection of stills likely shared from the producers offices. Several of these shots show the Turtles in action – wearing some rather homemade-looking gear as they roll out. You'll noise their weapons aren't what they used to be, either – Leonardo's swords, for instance, now appear closer to daggers.
Each of the boys' outfits are now a whole lot closer to their samurai roots, as well. Raphael goes all-in with a bushido helmet to protect his neck, so to speak.
These images come from TeenageMutantNinjaTurtles.com, a fan site, believe it or not (with a URL captured in the first waves of internet URL wild-west assignment.) Below you'll find a few more images from the same set, this time showing off The Shredder.
In this Shredder gallery you're going to have to do a double-take at what ComicBookMovie also says is the first appearance of Krang. For those of you that've never watched the cartoon series or seen this little fellow in his very few appearances outside that 1990s epic set of animations, Krang is a brain with a face. He's got no legs, arms that are able to press buttons and pull levers, and he's evil.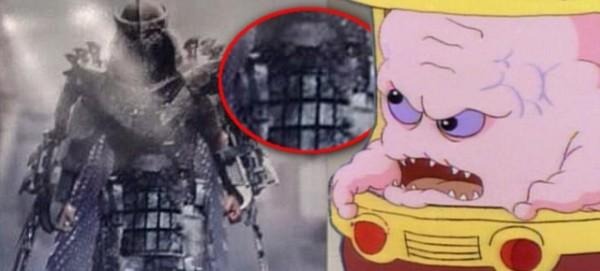 One of the strangest bits – besides the idea that Krang is now in the stomach of a Shredder robot, that is – that's come out of this funny re-invention of the character is the actor's revelation on the part. Here William Fitchner suggests that in addition to playing Shredder, he's playing a character named Eric Sachs.
Above you'll want to start in at around 12 minutes to hear chat or Eric Sachs.
Of course it's far more likely that Eric Sachs is simply the new version of the Shredder, taking the place of the original man named Oroku Saki. We're also going to go ahead and guess that the little beast inside Shredder there – if there is any beast at all – has a lot more to do with what's called "Utrom Shredder."
In the 2003 animated Teenage Mutant Ninja Turtles series, Utrom Shredder looks a lot like the little pod-person that Krang was, also using a machine suit quite similar to the one we're seeing above. Of course this one looks a lot like Super Shredder too, but we've heard nothing of Ooze being downed by our anti-hero in this film thus far.
Above you'll also see several of the guys dressed up in their full motion-capture suits ready to knock out some scenes. These images were shared by Access Hollywood and Comic Book Movie all the way back in May of 2013. They've clearly gotten a lot closer to production here in the present. Also note the appearance of what very well could be some terrifying-looking FOOT Soldiers.
Again, this film will be released to theaters on the 8th of August, 2014, and it'll be a big beast of a showing. In other words – you can very much expect it to be released on a large scale, and at a theater near you without a doubt.