Metal Gear Solid Touch for iPod touch & iPhone confirmed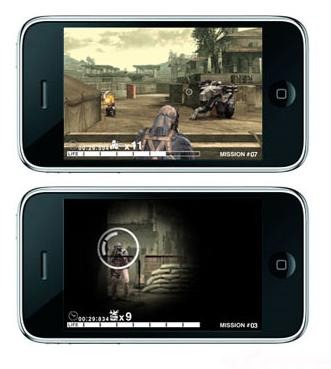 Konami have confirmed that the next title in the Metal Gear Solid series will be for Apple's iPhone and iPod touch.  Metal Gear Solid Touch will be an original title set in the MGS4 universe, initially with eight stages of gameplay available; that number is expected to increase.  Primary control will be via the iPod's touchscreen, rather than the accelerometer.
Performing well in the game will see players awarded bonus points; these can then be traded in for exclusive content such as MGS iPhone wallpapers.  Full details on the control interface are unclear, but from the two screenshots above expect fingertip sniper-rifle targeting.
According to Konami, Metal Gear Solid Touch will be available worldwide in Spring 2009.  No pricing details have been released, nor whether owners of the original iPod touch – which runs slower than the newer second-generation PMP – will suffer reduced frame rates.