Mercedes SLS AMG Coupé Black Series Revealed... And It's A Beast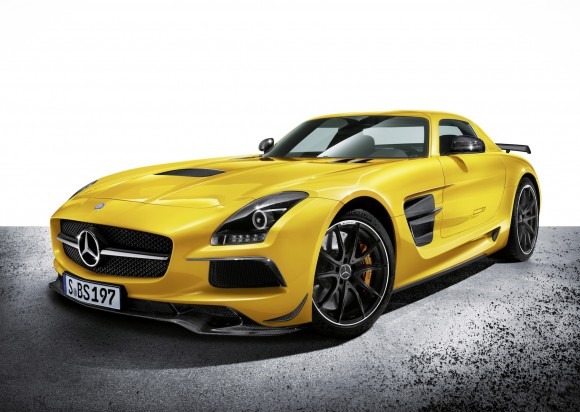 Mercedes has outed its latest high-performance AMG branded sportscar, the SLS AMG Coupé Black Series, borrowing racing credentials for an achingly impressive road car. Wrapping a long-snouted, gull-wing chassis around AMG's 6.3-liter V8 engine, the new car forces 631 HP through a 7-speed sports transmission, for a 0-60mph surge in 3.6 seconds and a top speed of 197mph.
That V8 comes with no supercharging or turbocharging, instead relying on natural aspiration for its 8,000rpm maximum and 635 Mb of torque at 5500rpm. However, various AMG efforts to slim the car have helped squeeze as much potential out of the powerplant as possible; the new sports exhaust system, for instance, has been crafted from titanium, saving 13kg from its steel predecessor.
In fact, at 1,550kg, the SLS AMG Coupé Black Series is 70kg in total lighter than the SLS AMG. The bonnet is carbon-fiber reinforced plastic, just as is used in motorsport, as is the rear panel behind the seats, the underbody bracing, and the torque tube. CRP replaces aluminum in sections of the space frame, and even the traditional starter battery has been junked, replaced by an 8kg lighter li-ion power pack.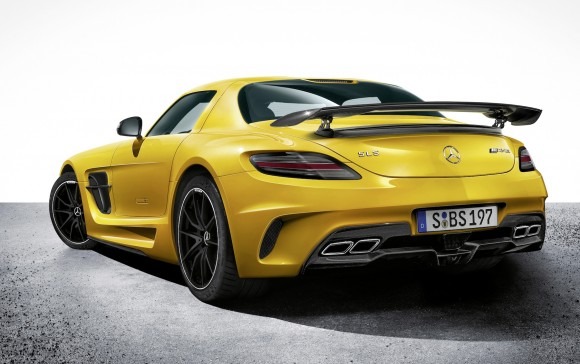 For the driver, the most noticeable differences may be the new dual-clutch transmission – which has faster shifting speed and auto double-declutching during downshifts, along with a temporary manual mode for the occasional system override – and the AMG rear-axle differential lock, which promises better control over traction, even when most of the nannying electrics have been turned off. There are ceramic composite brakes as standard – now 16kg lighter than the old set – and an all-new chassis and suspension system.
Externally, Mercedes-AMG has borrowed FIA GT3 style for the SLS AMG Coupé Black Series' flared wings, tinted lights, various carbon-fiber splitters, sills, and other components. Inside, there are bucket seats, metal elements across the dash, and plenty of leather and Alcantara. AMG even ditches Mercedes' traditional COMAND APS entertainment/nav system to save weight, though it can be added back in as an option. That can be paired with a Bang & Olufsen sourced 1000W audio system with eleven speakers, two of which are illuminated.
Mercedes-AMG says the new car will go on sale in June 2013. No word on pricing at this stage.