Mercedes-Benz G550 4×4² makes its US debut in 2017
Mercedes-Benz's G-Class line of SUVs, while some of the most capable off-road vehicles available, are often relegated to little more than expensive grocery haulers for the super rich and famous. It certainly isn't going to change this image, but Mercedes has revealed that the most high-end model of line, the G550 4×4², will be coming to the US in 2017.
Similar to the original Jeep's origins in the US, the G-Class was originally designed as a military-use vehicle. Mercedes eventually went on to produce very limited and very expensive special editions, such as the incredible six-wheeled G63 AMG 6×6, with its truly all-terrain capabilities. The G550 4×4² basically takes all the features and equipment from the 6×6, but drops the third axle.
The G550 4×4² (which, if you're curious, is said as "four by four squared" — and if by math is correct, would actually make it the "four by sixteen," but that's just a silly name for a car) was first released in Europe last November. When it arrives in the US in early 2017, it will be sporting 17.2 inches of ground clearance, and a 4.0-liter Biturbo V-8 engine that produces 416 horsepower and 450 lb-ft of torque.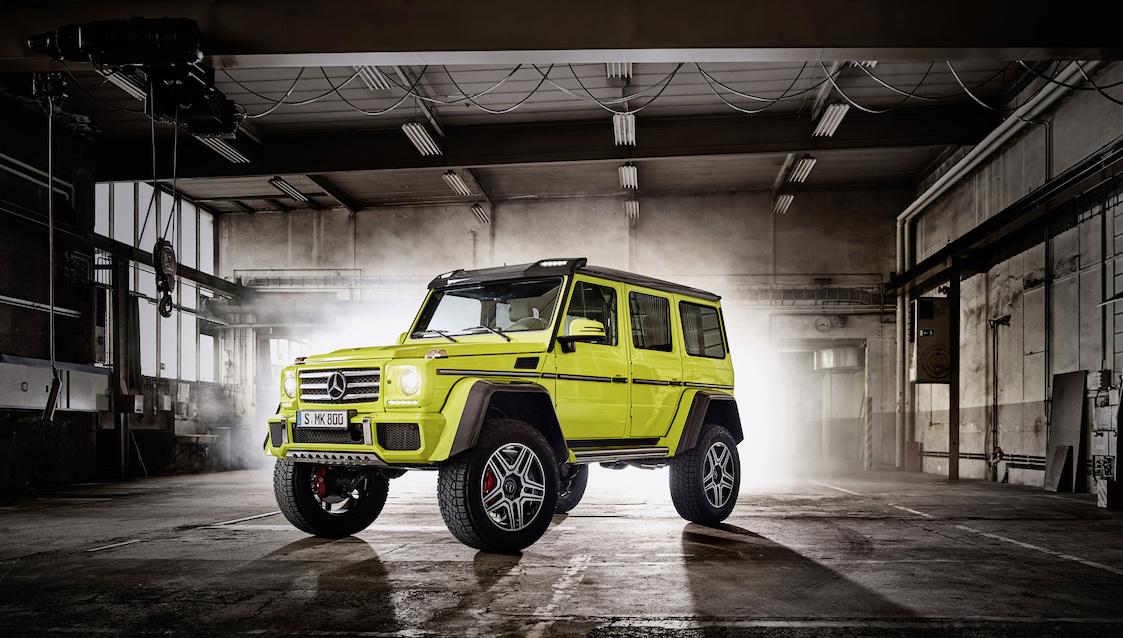 In the event drivers need to go off-road on the way to pick up groceries, they'll have nothing to worry about, as the G550 4×4²'s suspension includes dual springs and dual dampers at each wheel, two stabilizer bars, and while it comes with a measly two axles, they're both military-grade.
Thinking about tackling some mountains? The G550 4×4² won't bat an eye, as it can handle a max approach angle of 51.6 degrees, and a max departure angle of 43.8 degrees, plus a breakover angle of 47.4 degrees. Three feet of water won't even make this German SUV pause.
If you're ready to write a check, you'll have to wait. Mercedes hasn't announced the final pricing, but since the G550 4×4² is a tier above the more "reasonable" AMG G65, which costs around $218,000, you can bet it will include more than a few zeros. But who can put a price on invading the local grocery store?
VIA Automobile