Meizu MX3 Review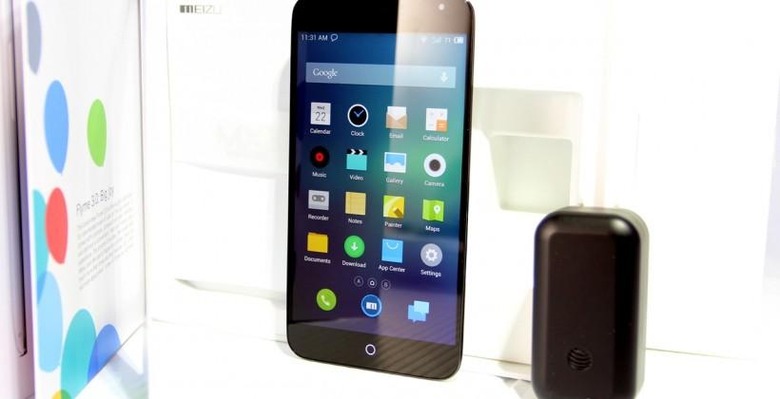 With the release of the Meizu MX3, the company once again aims high with their ability to create a high-end device that, at first, looks like it'd be able to compete with the finer solutions by the top manufacturers in the USA. What we've got here instead – in this current international edition of the device – is a machine that'll be able to compete with brands in China and surrounding markets with a look that's smooth, abilities that are quite nice, and Android 4.2-based Flyme OS 3.0 – read: rather unique.
Hardware
Meizu brins some heat with a 1800 x 1080 pixel 5.1-inch display – entirely unique in the United States' collection of smartphones today, to be sure. That's a cool 415PPI (pixels per inch) with LCD technology to light this screen up bright – and with a 2.90mm bezel (that's incredibly small), it would appear that you've got a display in your hands with next to nothing to the left or right of it.
Under the hood you've got an 8-CPU-core Samsung-made Exynos 5 processor – coming with 4x A15 cores clocked at 1.6GHz as well as 4x A7 cores clocked at 1.2GHz. This is all manufactured with 28nm architecture – and if you're wondering what you're going to do with all of these cores, we're right along with you.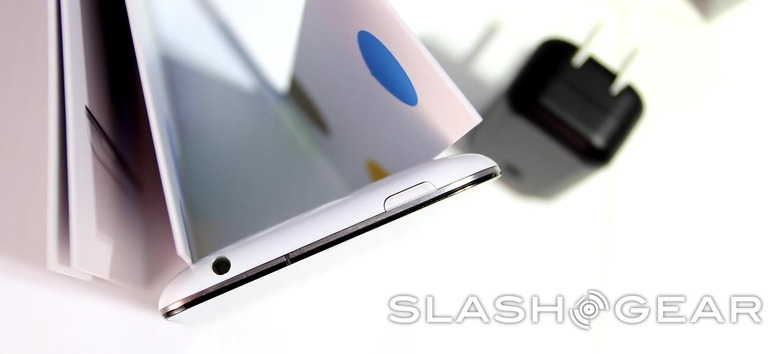 When 2 core processors were revealed for smartphones, we understood that we'd be able to offload processes to be able to do more than one thing at a time. With quad-core processing, the case was bumped again – with NVIDIA's solution we even had a fifth "ninja" core that allowed us to send low-power processor needs out for low-power processing – now we're up to 8 cores. What could we possibly want with so many cores?
As it turns out, we've at least got one reason to roll – lots of power for benchmarks. While we're seeing little in the way of Meizu's own utilization of all of these cores directly, it would seem that the company has successfully created one rather powerful phone. Now we just need more developers to step up and take the power for their own.

Below you'll find a number of benchmark test results for the Meizu MX3 – note that not all benchmarks take all processor cores into consideration, while you'll find the Meizu MX3 out-performing essentially every device on the market today when all cores are considered.
Also under the hood you've got some PowerVR SGX architecture at 544MP3 (3-core MHz) as well for graphics processing prowess. Meizu does appear to be rolling smart with these cores as we've never seen a skip yet in videos we've watched or Android-based games we've played.

Connectivity in your own home is provided by 2.4GHz/5GHz Wi-Fi sensors, rolling out with speeds as fast or faster than we've seen on other smart devices with the same abilities. This comes in handy for face-to-face video calling and streaming videos, as you might have guessed.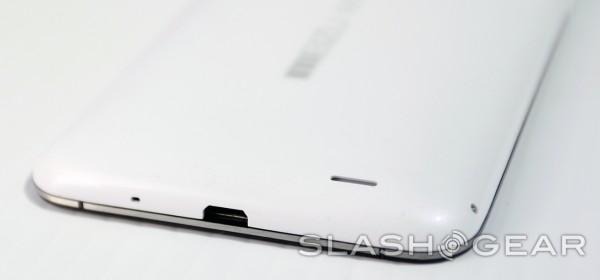 You'll also find a rather refreshing set of colored backside covers available for this device, interchangeable so long as you know where to buy them. The standard color is white – that's the one you'll get right out of the box.
Software
Meizu continues to impress with their smooth-looking flat aesthetic with Flyme OS 3.0. This version of the operating system based on Android 4.2 Jelly Bean does present some getting used to for hardcore vanilla-Android users, but we've found the change-over to be enjoyable.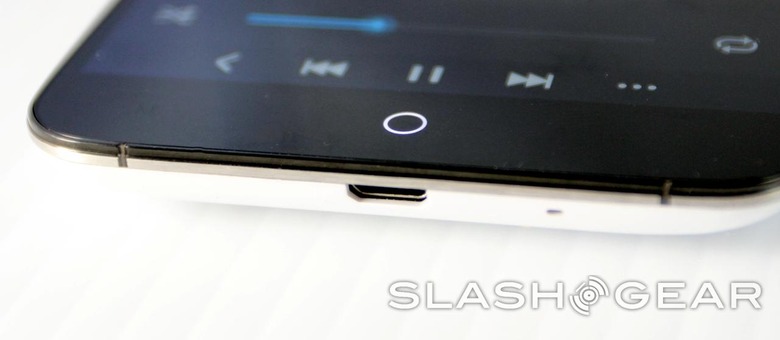 Android users across the board aim to find the ideal aesthetic with 3rd-party launchers from a variety of developers – here Meizu's implementation of Flyme makes us want to stick with what's presented. One example is the fact that there's no app drawer – you can use folders to collect what you'd like on one of several homescreens.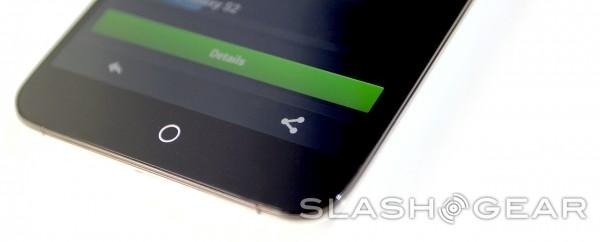 The "M" in the center of the bottom portion of the display is part of the Meizu logo, linking you to the company's built-in web browser to the Meizu homepage. This is an element we could do without, but Flyme 3.0 allows us to move it out and replace it with any other app shortcut easily.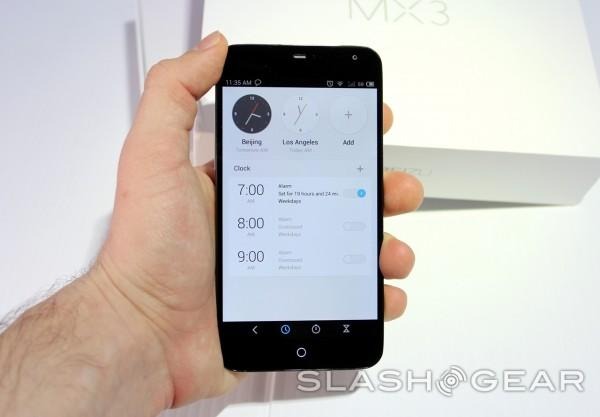 Apps such as Documents, Music, and Gallery offer up extreme simplifications of the sometimes-overbearing versions offered with other, larger brands. The designers behind this user interface have syphoned the bits we needed and have tossed out the rest – this is Android at just about it's most user-friendly.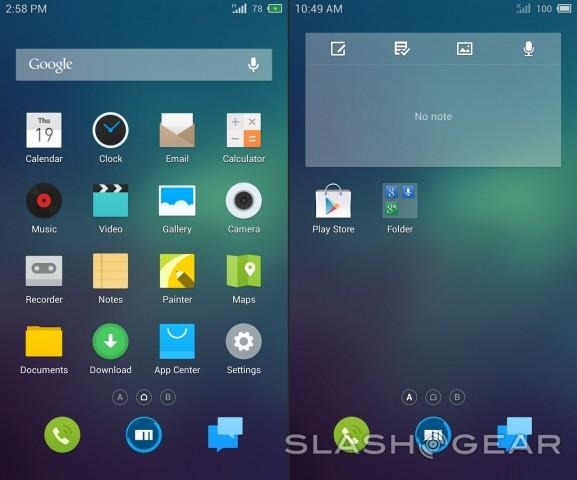 You've got the choice of working with Google Play for apps – like any other USA-based device – and Meizu's "App Center", where you may have some trouble navigating unless you speak the dialect. Many apps require you to pay Yen, which in turn requires that you sign up with a Flyme account – not something we were especially excited about since we come into every Android device expecting to use Google Play.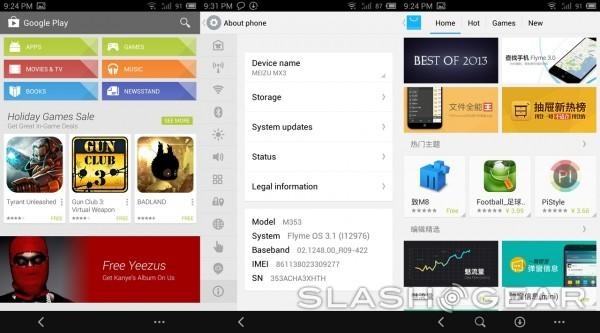 That said, Meizu and Flyme are at a point in their respective histories where we can trust them to provide us with reliable service, top to bottom. It will be interesting to see if this App Center survives the journey to the USA in the USA-based edition(s).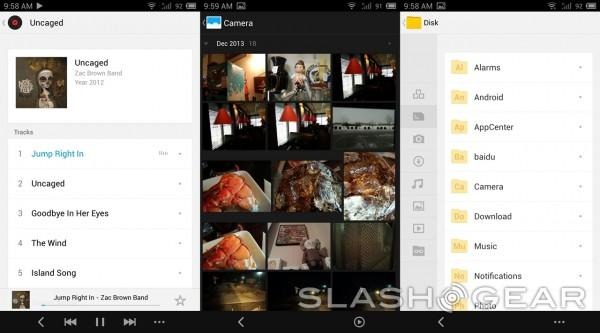 With Google Play there was nary an app we couldn't install, as Meizu has worked this device out to be compatible with the vast majority of Android apps out there in the wild. While we've had trouble with some international-aimed smartphones and Google Play app compatibility, Meizu has struck the right chord here for the largest cross-section of compatibility we've seen on such a phone.
Camera
This machine's camera works with what they describe as a "top-class" 8-megapixel BSI sensor with f/2.0 "super-large" aperture. This back-facing setup works with a 77-degree wide-angle lens and the ability to work with 1080p video at 30FPS.
Up front you've got a 2-megapixel camera with BSI sensor and 1080p video recording abilities at 30FPS. The back-facing camera is also helped with a 4-channel photographic processing chip as well as a Wolfson WM5102 audio decoding chip, speaker chip, and a "new-generation audio enhancement chip".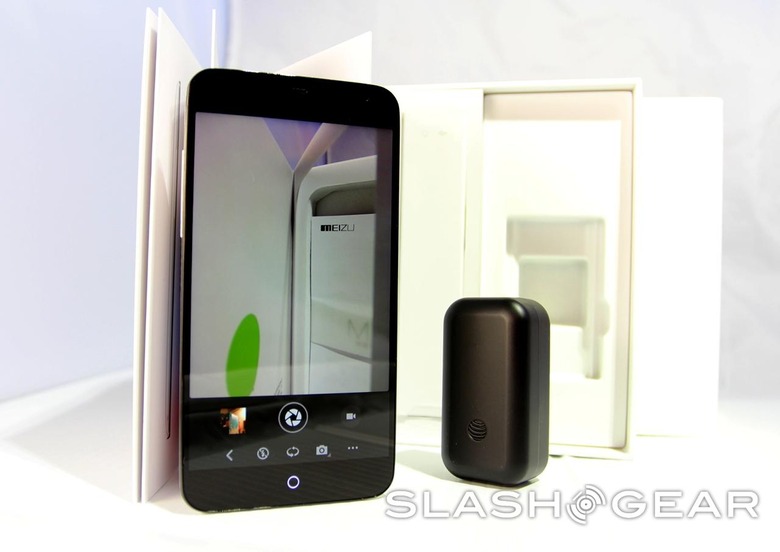 This is all going deeper into the bits included inside the smartphone than most companies end up speaking about with the public – in the end it just means that this smartphone has had all of its components picked by Meizu by hand to create one solid experience.
Above is a set of photos taken with the Meizu MX3 with the back-facing camera. Below you'll find a video filmed with that same camera.
Battery Life / Phone Quality
While we're not especially keen on testing an international phone here in the USA for call quality in general, here it would seem that Meizu has done the work necessary to provide a positive experience no matter where you go. We'll be testing the USA-based model(s) again to see how the more locally-aimed phone components fare, but for now you'll be glad to know that this device sounds quite nice from both ends – we heard our callers with fine quality and our callers heard us with great ease.
UPDATE: The AT&T version we've got here sounds just as fine as the international version we've had our hands on. Meizu has gone and created a device that sounds as nice as it looks.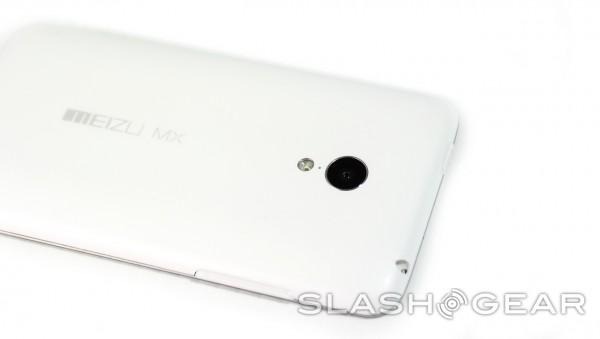 The battery on this device stands the test of an average day quite well, especially considering the massively dense display you're seeing up front. Working with a 2400 mAh lithium-polymer battery inside – even though we've got heavy-duty 8-core processing going on with high-powered gaming and the lot – has lasted us a full 8-hour workday with ease.
We must assume this is due to Meizu's implementation of Panel Self Refresh (PSR) technology "built for big screens." So far this device at least hits the battery time of similar devices, if not beating them in similar tests.
Once you get into heavy usage, you'll find that you may need to charge this device halfway through the day. When you've got a display this large running at full brightness with a whole lot of activity going on under the hood, there seems to be just no getting out of needing to keep that battery in wall plugs.
Wrap-up
Meizu continues to impress with their latest smartphone entry here with the MX3. We were already impressed with the abilities of the Meizu MX all the way back in 2012 – here two generations later, things have only gotten better. While we wouldn't recommend a USA-based consumer to pick this model up specifically due to 3G-only connectivity, once the US-based model(s) start appearing, we'll have a real contender on our hands.