If you live in China, you may already know about Microsoft's "other" artificial intelligence. Cortana lives in the United States and is spreading across the world – but we're not talking about Cortana. We're talking about XiaoIce – aka "Little Ice."
Microsoft China is working on a service called XiaoIce. This service is already ready to roll in Beta form for several apps and is being integrated with a few more in the very near future. It's pretty awesome – you speak with it, and it speaks back to you – like a text-only version of Cortana, but ready to dive deep into a wide variety of apps.
But what's it doing in China? And why isn't it here in the United States?
XiaoIce works with Sina Weibo, it's going to work with WhatsApp, it works with text chat. So what's the deal?
Just this past month, Microsoft announced that it'd be bringing Cortana to China with Windows Phone 8.1 – its nickname was (and is) "Xiao Na." XiaoIce is a sort of derivative of that. Here's what it can do in a basic chat – translated from Mandarin:
Jerry: XiaoIce, will it rain tomorrow?

XiaoIce: Tomorrow the weather in Beijing will be nice with a maximum high of 25*C. No rain to get you soaked.

Jerry: How about the day after tomorrow?

XiaoIce: The day after tomorrow, the weather in Beijing will also be fair, with a max high of 23*C.

Jerry: What about Seattle?

XiaoIce: Yes sir, I've got the answer. The day after tomorrow, Seattle will be cloudy with a max high of 30*C. Perfect for going outside.
According to Stefan Weitz, Senior Director of Bing, they'll be expanding this service in the near future. Its development is going strong in China for now – a place where it's still considered an experiment.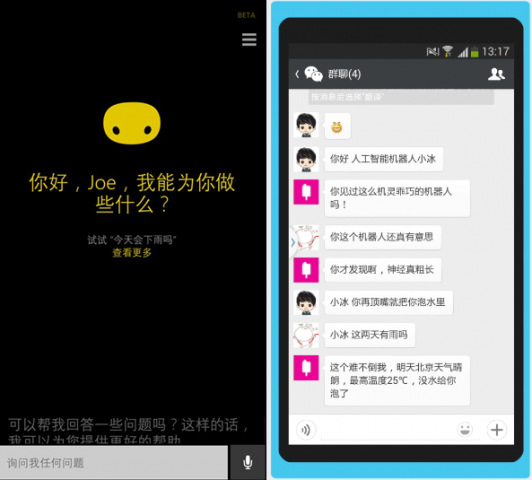 "This experiment has yielded powerful insights on how we can make our technologies more intelligent, relevant and personal," says Weitz. "You can expect to see some of these notions permeate our services in the coming months."
We're hoping for English sooner than later. If you're a speaker of Mandarin, you can get your hands on XiaoIce right this minute in several formats. Have at it!