Media Cowboy DC-MC35ULI set-top box revealed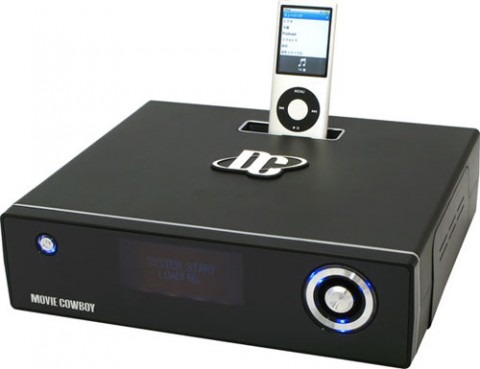 Digital Cowboy announced their Media Cowboy DC-MC35ULI set-top box today that acts as media hub and more. It works with all sorts of media sources and is capable of playing most audio and video formats in 720p.
It works with a 3.5 SATA hard drive, but can also work as an iPod dock, since it has a Dock Connector mounted to the top. This is an easy way to directly connect your media. And the built-in Ethernet makes it easy to share your files with others over a network.
You even view YouTube clips and Picasa images on the hub, if you'd like. The included remote allows you to control the media stored on the drive or on connected Apple devices. Supported formats include MP3, WMA, AAC, AC3, DTS, DivX, RMVB, WMV, MPEG-1, MPEG-2 and XViD. Inputs include RCA, USB and outputs are TCA, optical audio and HDMI. You can get the Media Cowboy MC35ULI in Japan next month for the equivalent of $255.