Maserati Levante GTS debuts with Ferrari V8 and 550hp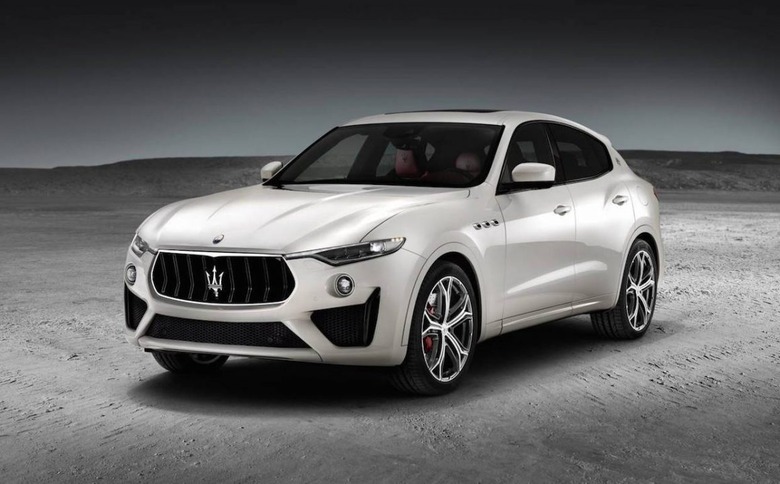 If you've had your eye on the Maserati Levante Trofeo SUV but the $170,000 price tag was a bit too much for your budget, consider yourself lucky. At this week's Goodwood Festival of Speed, Maserati announced a "budget friendly" model in the form of the 2019 Levante GTS, which sacrifices 40 horsepower for a price that starts at roughly $120,000.
While the Levante GTS is slotted just under the top-of-the-line 590 hp Trofeo, it features the same Ferrari 3.8-liter, twin-turbo V8 engine, albeit tuned for 550 hp and 538 lb-ft of torque. Maserati says the SUV can go from zero to 60mph in 4 seconds flat, and has a top speed of 181mph. For comparison, the Trofeo does 0-60mph in 3.7 seconds and can reach 187mph, meaning there isn't much performance difference for being $50,000 cheaper.
The Levante GTS maintains a sportier look over the lesser V6-equipped Levante S, with unique front and rear fascias and 22-inch wheels. The interior features premium leather trim, carbon fiber shift paddles, sport pedals, and a redesigned shift lever to address concerns over last year's recall.
The Ferrari engine is paired with an eight-speed ZF automatic transmission, and a rear-biased all-wheel drive system that's able to send up to 50% power to the front. Also included is a rear limited-slip differential. Deliveries of the Levante GTS are said to begin in October.