MANHART MHX6 Dirt² Concept packs 900hp of off-road fury
A company from Germany has created what might be the coolest off-road BMW concept ever designed. The vehicle is the MANHART MHX6 Dirt² Concept and it is based on the BMW X6M with some major updates to the car for performance and off-road prowess. There will be five of the vehicles made and each of them will have 900hp and 1200Nm of torque underfoot.
The entire engine has to be reworked to reach those levels with new pistons, connecting rods, and upgraded turbos. The vehicle also uses a special Carbon Airintake and an updated cooling system. To handle 1200Nm of torque requires an upgraded transmission and a strengthened rear axle.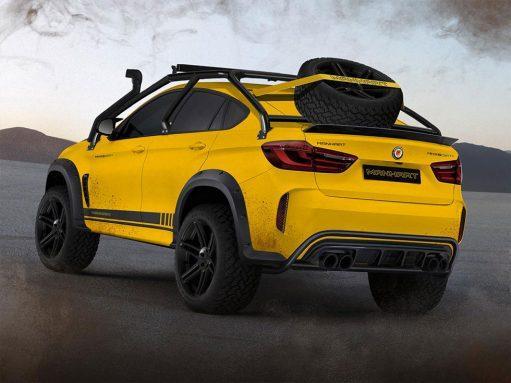 The MANHART brake system is fitted to the vehicle to slow it down when ended. The vehicle also gets a MANHART exhaust system. The suspension is changed using a KW spring set to increase the ride height. Tires fitted to the vehicle include 305x40 BF Goodridge All Terrain tires.
MANHART also fits the ride with a limited slip differential. To protect the vital components when off-roading, the underside of the vehicle are covered in protective panels. The car can also ford deep water as well thanks to a snorkel.
The five MANHART MHX6 Dirt² Concept vehicle to be built will be highly customizable by the buyers and each will be handmade. The starting price is 395.000€. The build time on each vehicle is 6-8 months complete with a reworked interior.
SOURCE: MANHART