Lovely New Fujitsu Tablet PCs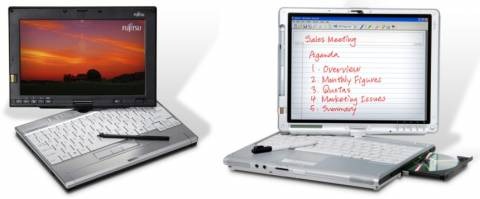 Lovely lovely Tablet PCs.  Yes, there are naysayers, but they are dirty and wrong – dirty and wrong, you hear me!  Thankfully Fujitsu are on my side, they believe in the power of the pen; hence their new P1610 and T4125 convertibles.  The former is a Flybook-competitor, with 8.9-inch display, 1.2GHz Core Solo U1400 processor, WXGA resolution display, 512MB of RAM, 30GB HDD, gigabit Ethernet, 802.11a/b/g WiFi and a fingerprint sensor; battery life comes in at 3.5hrs although there's a $45 extended battery option with double that.  Read on for T4125 details.
The T4125 has a choice of Core 2 Duo processors spanning from 1.66GHz to 2GHz, an on-board DVD/CD-RW combo drive and card reader, together with 12.1-inch XGA display and, in base config, 512MB of RAM and a 40GB hard-drive.
Available now, the P1610 starts at $1,649 and the T4125 at $1,799.