LonMID M100 Atom-based internet device spotted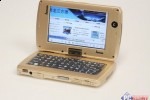 One of Intel's demo MIDs from IDF Beijing has shown up for a closer photoshoot, and its already got QWERTY-lovers drooling.  The LonMID M100 bears a strong resemblance to some HTC convertible smartphones, but packs more grown-up specifications: an 800MHz Intel Atom Z500 processor, 512MB of RAM (1GB supported) and 4GB SSD, together with a 4.8-inch 800 x 480 touchscreen, WiFi b/g and Bluetooth 2.0.
As you might expect, the M100 also has the dimensions to match.  6.2 x 3.5 x 1.1 inches make for a chunky handset, and while it's a little narrower than the UMID M1 it's also a lot thicker (the M1 is 0.7-inches thick).  Still, it does pack an integrated cellphone – complete with its own external 2.4-inch QVGA display and controls – and dual cameras.
Ports include two headphone jacks, two miniUSB, a microSD card slot and SIM slot; OS is Midinux.  No word on whether it'll reach production or, if so, what price we could see it at, sadly.
[via Pocketables]