Logitech Z600 Bluetooth speakers unveiled with multi-device connectivity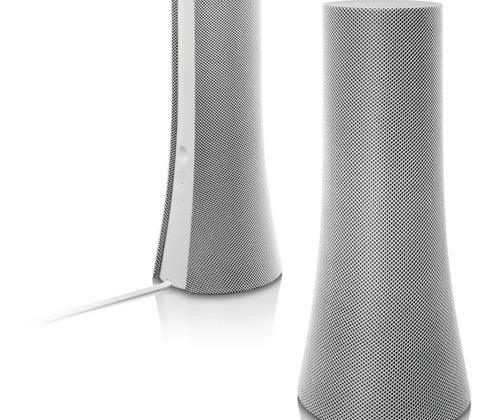 Logitech has taken the wraps off its new Z600 Bluetooth speakers, which it is specifically aiming at those with ultrabooks and Mac computers with its design, though they'll work with any device with Bluetooth. The speakers support connection with multiple devices at the same time, allowing the user to toggle between those devices by pausing one audio stream and firing up another.
The feature is particularly useful for those who commonly use a couple different devices, with the Z600 being able to connect to up to three at the same time. One who prefers to use the speakers with a computer, for example, but prefers to stream music over a smartphone can connect both, then use them over the speakers without messing with the connection by simply playing one while the other is paused.
Said Logitech's Global Vice President of Brand Development and Portfolio for PC Accessories: "The Logitech Bluetooth Speakers Z600 were designed to resemble an object of art using shapes, materials, and colors that meld with the modern living space and complement the look of ultra-thin laptops. And with built-in Bluetooth connectivity, a first for Logitech multimedia speakers, these speakers are ideal for today's wireless, multi-device lifestyle."
Each of the speakers feature 3 drivers, and controls are taken care of via a touch panel located on the top of the right unit. Turning the volume up and down, for example, is achieved by running a finger along the edge of the panel. The rest is located in the back of the speaker, such as the standard 3.5 mm input, the power button, and the Bluetooth pairing feature.
The Bluetooth transceiver is USB for those with a computer that doesn't have wifi, and the 3.5 mm jack allows for wired connections to devices. The wires were designed so that they lay flat between and from the two speakers, reducing visual clutter and helping to avoid tangled messes. The speakers are slated for launch next month, and are priced at $150 USD.
SOURCE: Logitech