Behold the Fold-Up iPad Keyboard from Logitech, compatible with the iPad and the iPad 2. We've gotten our hands on several Logitech accessories over the past week, but this one takes the strangely enticing cake. What you've got here is a keypad that slides out from the sides of the back of your iPad or iPad 2 and swings out and back together as the iPad reaches standing-up state. When you don't need the keyboard anymore, fold it back out and it sits securely under the iPad without a bit of trouble.
Look at that handsome wookie!
The entire keyboard is powered by a battery you charge up via USB, and it all connects to the tablet via Bluetooth. When you fold it out, the keyboard wakes up and is ready to work. When you fold it back down and under your iPad, it turns off completely so as to conserve battery as much as possible. The battery inside does not need replacing, charging via USB the same way your iPad itself does.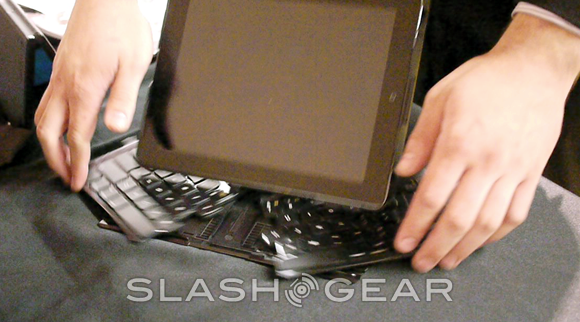 Like all awesome cases and otherwise attachable iPad 2 accessories, you can use your Apple-made Smart Cover for use with the Fold-Up Keyboard. The keyboard works with your iPad to provide you with multi-key touches, key combinations (like shift and a letter for capitalization, for example), and a lovely easy typing experience. The entire device will cost you $129.99 and you can buy it straight from Logitech today.
[vms 01cedc15f5118a762609]
Again this is just one of many hands-on videos we collected at the 2011 Pepcom Holiday Spectacular in New York City. To see all the rest in a lovely and conveniently arranged list, just hit the [Pepcom Holiday Spectacular 2011 portal] and discover the future!