Loewe's the Individual crystal-studded LCD TV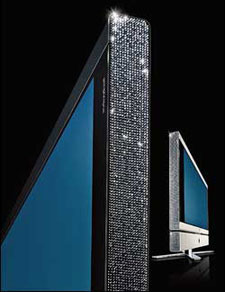 If you aren't satisfied with just any LCD TV, this overly shiny version will surely keep your friends envious. This limited edition Loewe TV is covered in little crystals all along the edge, to give it that "I have too much money" look.
The TV pictures are displayed at 16:9 cinema format and is 1366 x 768 pixels. The TV decked out in crystals measures 80cm across, diagonally of course. It is sold in black as well as white, although the black looks plenty chic.
There are only twenty different sets that will be created, so if you want to snag one you'll have to move quick. It is being sold for about $8,710 a piece.
[via techdigest]