Linksys throw the codec bucket at latest media streamer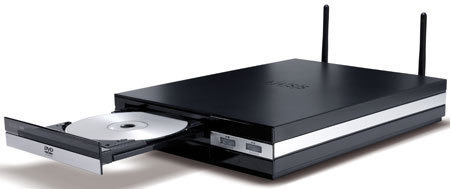 After critiquing Lenovo's lounge-bound ThinkCentre media PCs for their "unique" design, it's nice to see that some things intended to sit under your TV are a little more classical in appearance.  Linksys' KiSS 1600 Wireless Media Hub is, judging by the size of the DVD tray, a compact way to stream anything up to 720p HD video spilt out of its HDMI port.
There's also a USB port for adding media to the network via an external hard-drive, say, or flash memory key.  Assuming you've got broadband you can stream internet radio and play online games; all for a smudge over $500.
Linksys [via Crunch Gear]