Lincoln Navigator Concept says gullwing doors are "quiet luxury"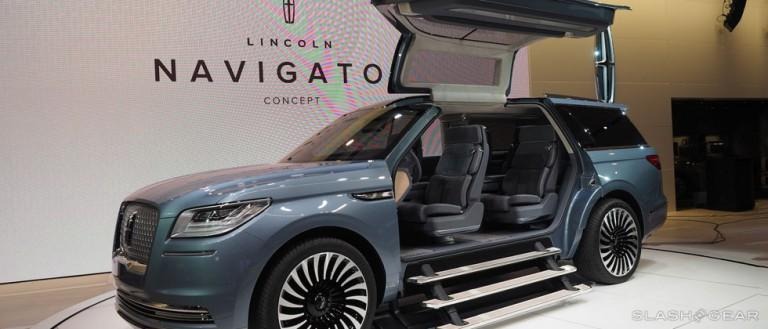 Gullwing doors, an imposing on-road presence, and a brand new powertrain... no, not the Tesla Model X, but Lincoln's astonishingly outlandish Navigator Concept. Wheeled out at the New York International Auto Show this week, the vast SUV previews the next generation of Navigator and the vision of "quiet luxury" that the automaker believes its drivers – and their passengers – deserve.
Still, there's not much quiet about the Navigator Concept's aesthetic. The front has hints of Bentley Bentayga, while the side and rear three-quarters are mildly reminiscent of the Range Rover.
Lincoln says the inspiration came from luxury sailboats and yachts, and that also shaped the color, a rather lovely Storm Blue that's oceans away from the black Navigators you see lined up outside airport terminals.
Under the lengthy hood there's a brand new powertrain, though it's no all-electric Model X alternative. Instead, Lincoln is debuting a new 3.5-liter twin-turbo V6, capable of more than 400 horsepower.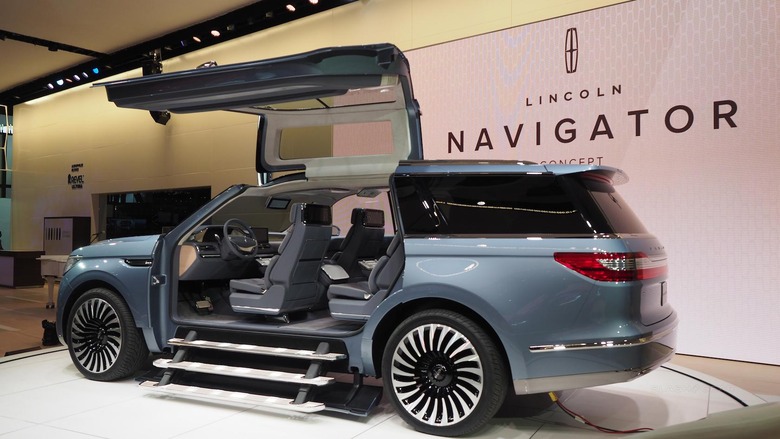 Multiple drive modes switch between steering, suspension, and noise cancellation settings depending on road conditions, and they're tied into different themes in the digital instrumentation cluster.
That's just part of a cabin that Lincoln says its largest interior ever. The nautical theme continues with teak wood and custom metalwork, with six leather captain's chairs trimmed in light blue. Each has 30 different degrees of adjustment, including things like independent thigh support.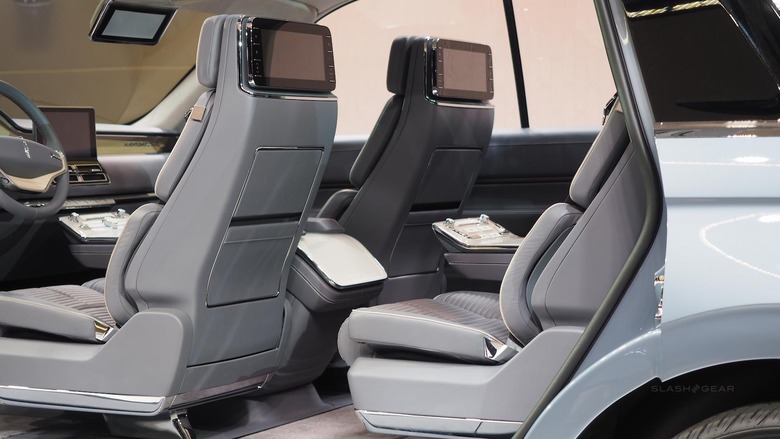 There's a "custom wardrobe system" which is effectively your closet on wheels, and a Revel-provided audio system that works with the widescreen displays in each of the rear headrests. Multimedia can be directly loaded or streamed over WiFi.
You enter via the most striking part of the Navigator Concept: the gullwing doors and concertina steps. If they remind you of the spaceship from 80s sci-fi classic "Flight of the Navigator" then you're not alone.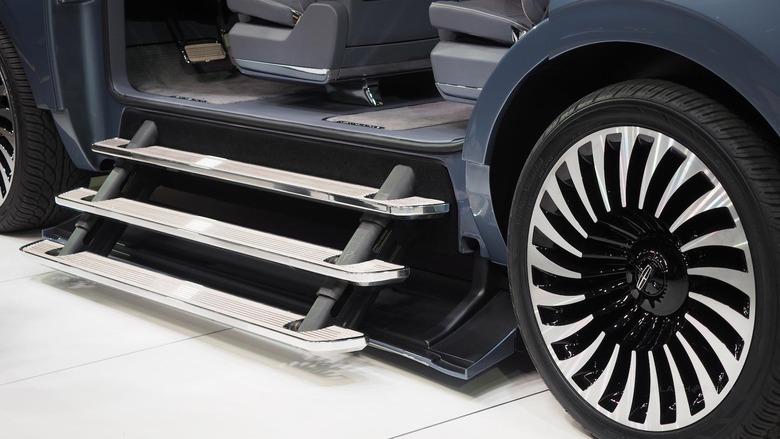 As for safety tech, there's pre-collision assist with pedestrian detection, which can automatically slam on the brakes if the driver isn't paying attention to a potential crash ahead. 360-degree cameras work with enhanced park assist, while lane-keep assist vibrates the wheel if the SUV is drifting over the lane markings, and can nudge you back if need be.
What does all this mean for the new Lincoln Navigator? Well, the gullwing doors and multi-stage steps are unlikely to make it to production – just look to the troubles Tesla has had with commercializing the doors on the Model X for a good reason why – and the vast wheels will probably be toned down, too.
Inside, figure on less gadgetry, though the driver assistance is almost certain to make it through. With rival Cadillac installing WiFi hotspot functionality by default in the Escalade, native 4G connectivity seems a must-have for the new Navigator, too.
For the moment, Lincoln is keeping its lips sealed on when we might see a production spin-off of this concept, but with the current generation dating back to 2007 – albeit with a refresh in 2015 – it can't be too far out.
[gallerybanner p="432820"]