Limited Edition The Simpsons Engraved iPods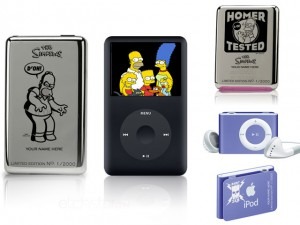 The Simpsons have been around long enough that they could slap their name on just about anything and it'd end up selling to several of their faithful fans.  Well now they're getting into technology and selling custom engraved iPods.
Granted, they will quite obviously cost a little extra, but this limited edition set is definitely worth a look.  They are selling a few different styles that are engraved onto different sizes of iPods.
Each one can also be customized to add your name or whatever else you might want, which is obviously going to cost even more extra.  These are limited edition though so you'll have to move fast, there are only 2000 of each.  They are selling the iPod Classic 160GB ($439), Classic 80GB ($329), Nano 8GB and 4GB ($269 and $219), Shuffle 1GB and 2GB ($89 and $109) and finally the iPod Touch 8GB, 16GB and 32GB ($389, $499 and $599).
[via chipchick]